Join the Mystery Diner as they take a trip to one of Starved Rock Country's iconic drive-ins, The Rootbeer Stand in Oglesby!
If you grew up in an era gone by and sometimes get nostalgic about the good old days of drive-ins and carhops and a big, frosty mug of root beer, then The Rootbeer Stand in Oglesby is for you.
If you aren't the nostalgic type and just like tasty food at a good price served by friendly staff, well, then The Rootbeer Stand is for you, too. Located a hop, skip and jump away from both Starved Rock State Park and Illinois Valley Community College, Oglesby's The Rootbeer Stand offers an old-school, 1950s dining experience alive and well in the 21st century.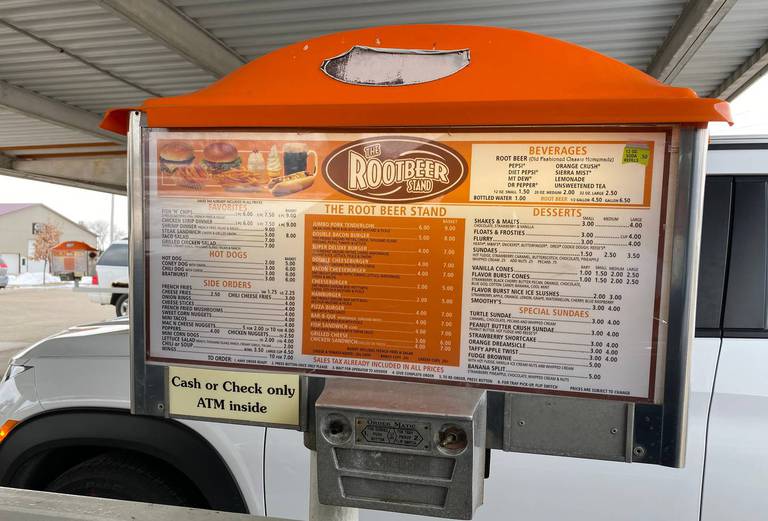 A friendly, smiling face greets diners – a larger-than-life, burger- and root-beer-holding statue. Behind him is The Rootbeer Stand, offering booth-style dining indoors and a carport for those wanting to order and dine in the convenience of their own vehicle.
The comforting, nostalgic feel of pulling into The Rootbeer Stand's drive-in cannot be overstated. That same feeling extends indoors … and, perhaps most importantly, to the menu.
First up: Yes, there is root beer, and, yes, it is excellent, made in-house and served in a frosty glass mug ($2.50 for a large mug, $4.50 for a half gallon).
As good as the root beer is, though, there are plenty of food items on the menu worthy of pairing with it.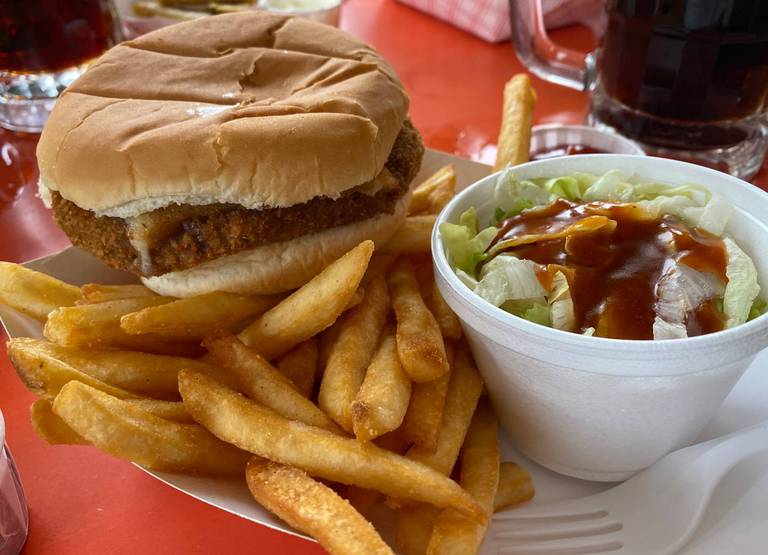 The steak sandwich with cheese and grilled onions ($5), chili dog ($3), jumbo pork tenderloin ($6), super deluxe burger ($4) and Coney dog ($3) are all popular favorites. For three dollars extra, you can make it a basket with French fries and a small salad. (There are a number of salad dressings available, but you should probably get extra French – it goes great as a dip for the crispy fries.)
There are plenty of other excellent options on the menu – the double bacon burger ($5), fish 'n' chips (three-piece basket for $7.50), chili ($4.50 for a large cup) and a wealth of appetizers including cheese sticks, fried mushrooms, sweet corn nuggets, poppers and mini tacos (all $4 or less). If you're taking the Mystery Diner's advice, though, you've got to try the deep-fried pizza burger ($4) smothered in pizza sauce.
If you're still hungry, The Rootbeer Stand's other specialty is its ice cream. Shakes, malts, floats (yes, that means root beer floats), sundaes, banana splits, ice cream cones and more are offered to cap off your meal or just for a hot summer night cool down.
Like the meal part of the menu, you can't go wrong. You might visit The Rootbeer Stand for the atmosphere, but you'll go back for the food.
• The Mystery Diner is an employee at Shaw Media. The diner's identity is not revealed to restaurant staff before or during the meal. The Mystery Diner visits a restaurant and then reports on the experience. If the Mystery Diner cannot recommend the establishment, we will not publish a story.
The Rootbeer Stand
225 N. Columbia Ave., Oglesby
815-883-9254