If you're partial to off-the-beaten-path dining experiences, then Smitty's Bar & Grill comes recommended. But know to either come with a big appetite or look elsewhere to nibble.
Situated in tiny Leonore, Smitty's is a family-friendly tavern with a kitchen that has attracted a following for its pub grub, especially the jumbo pork tenderloin.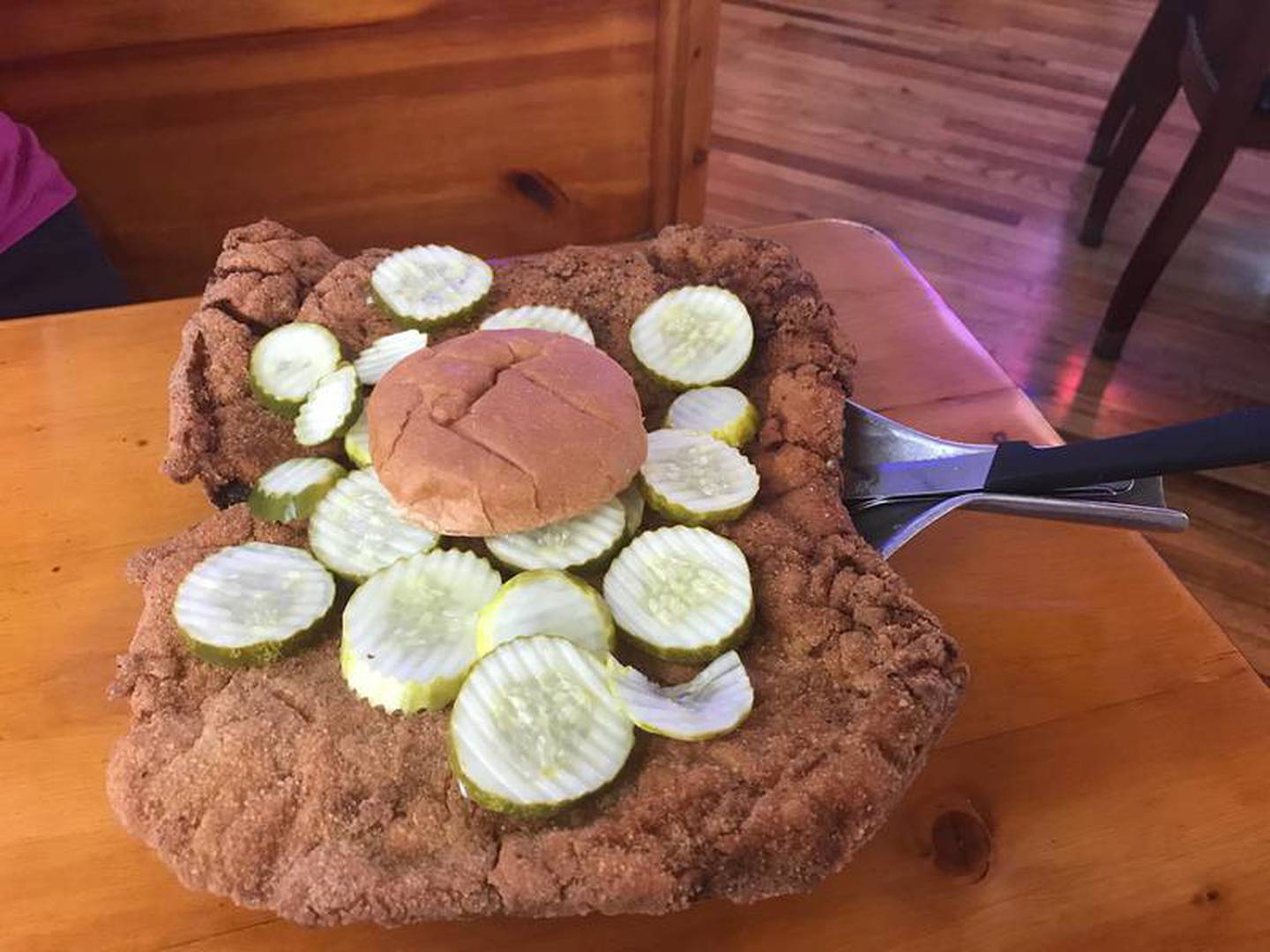 Smitty's gets points for cleanliness and general appearance. Where most eateries Smitty's age (founded in 1988) have scratched tables and nicked-up chairs, everything in the dining room looked newer and well-scrubbed. Outdoor seating is available, as well.
The server was extremely friendly. You'll want to allow some time for your food order, because the takeout service is brisk. Before our plates arrived, servers emerged from the kitchen lugging large and heavy plastic bags filled with carryout dishes.
My dining partner decided to try the pork tenderloin sandwich, and also ordered the deep-fried, mac-and-cheese bites, which she couldn't finish alongside the massive entree.
And I do mean massive.
The pork arrived on a metal skillet. I took the panhandle and found it heavy to lift. Without a tape measure, I'd estimate the filet was 6 inches wide and 12 inches long. The bun covered no more than 10% of the surface area, which was topped with 19 pickle chips. Yes, 19.
My dining partner gazed a moment at her super-sized sandwich.
"I feel like I'm on that show," she said.
The show in question is "Man v. Food," formerly hosted by Adam Richman. For the uninitiated, Richman drew a cult following by having himself filmed at 85 eating challenges over four seasons on the Travel Channel.
My own entree wasn't much smaller. Smitty's features several nightly all-you-can-eat dinner selections, and I chose the Friday fish special, opting for cod over walleye. There was food enough for two, and I couldn't finish the plate.
I had handed in the menu before ascertaining whether there was a dessert section, so I asked our server if cake or ice cream were available. Um, no.
"Do you want dessert?" she replied, startled. The question is obviously seldom asked.
The message is clear: If after dining at Smitty's you find yourself craving dessert, follow the lead of Adam Richman and seek professional help.
Smitty's is located at 308 Gary St., Leonore. From Interstate 80, take Route 178 through Utica south to County Highway 44, make a hard right at the Lutheran church and cemetery and head due south, avoiding the turn toward Route 23.
SRC TIP: Credit cards are accepted, but Smitty's imposes a surcharge for non-cash purchases.
• The Mystery Diner is an employee at Shaw Media. The diner's identity is not revealed to the restaurant staff before or during the meal. The Mystery Diner visits a different restaurant and then reports on the experience. If the Mystery Diner cannot recommend the establishment, we will not publish a story.
Smitty's Bar & Grill
308 Gary St., Leonore
815-856-2030