Sushi and hibachi are two of my types of restaurants to visit, so when a restaurant offering both opened in Peru, I immediately told my spouse we had to try it. Koi Sushi & Hibachi did not disappoint.
Located at 1519 Water St., Koi provided a nice atmosphere for a date night with small, intimate tables lit by candlelight.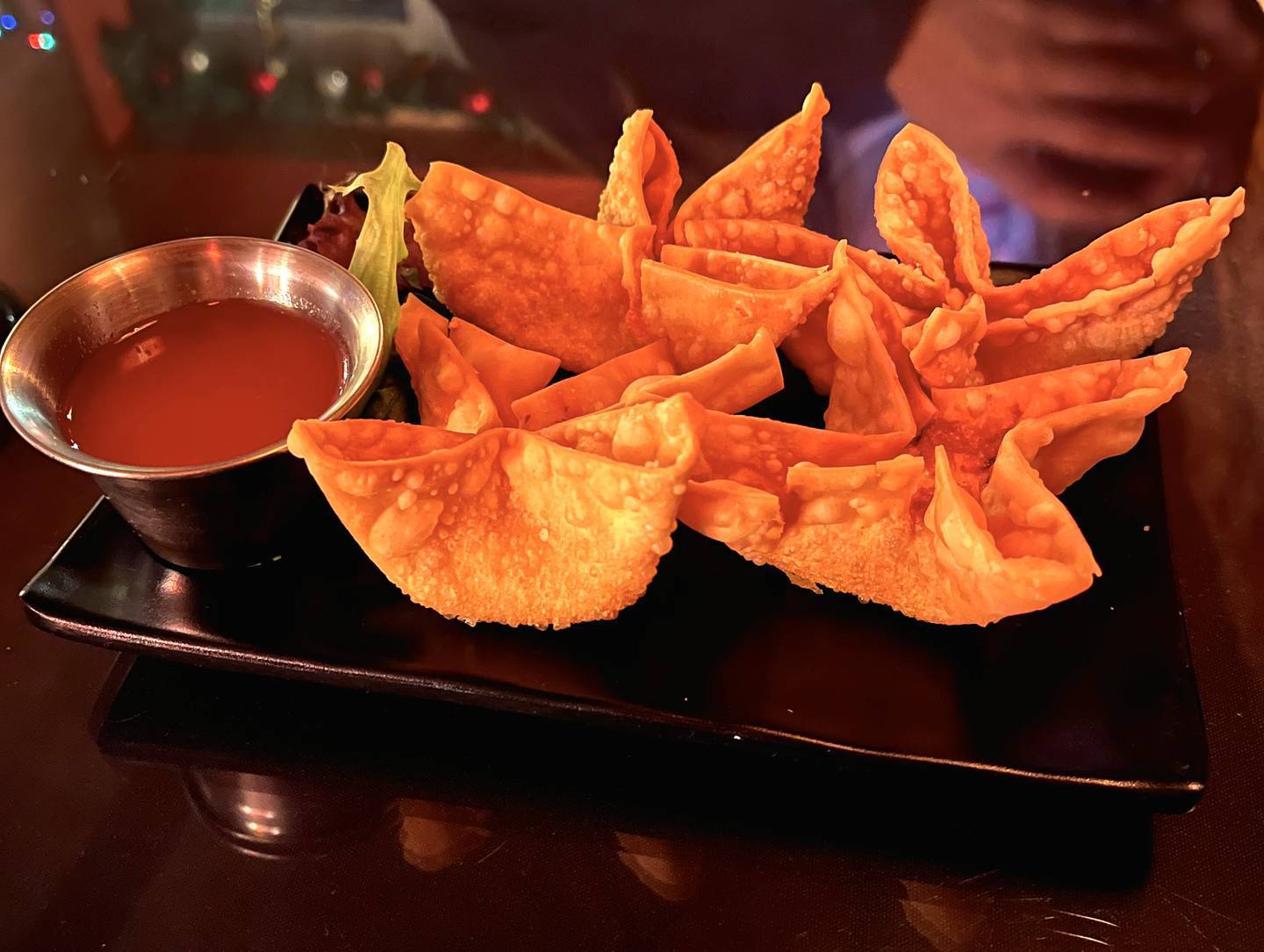 When we arrived, our server was quick to greet us and bring water and menus. While Koi had paper menus, it also had QR codes at the table that bring up the menu with photos of each item, which is convenient.
The service at Koi was top-notch. All our drinks and food were brought out quickly, our server was friendly, and the chef even came out to see if we were enjoying our food.
We started with crab Rangoon ($5.99) for an appetizer.
Koi serves the traditional appetizer four to an order, and executed it flawlessly. The shell was extremely crispy, and the filling was creamy and flavorful.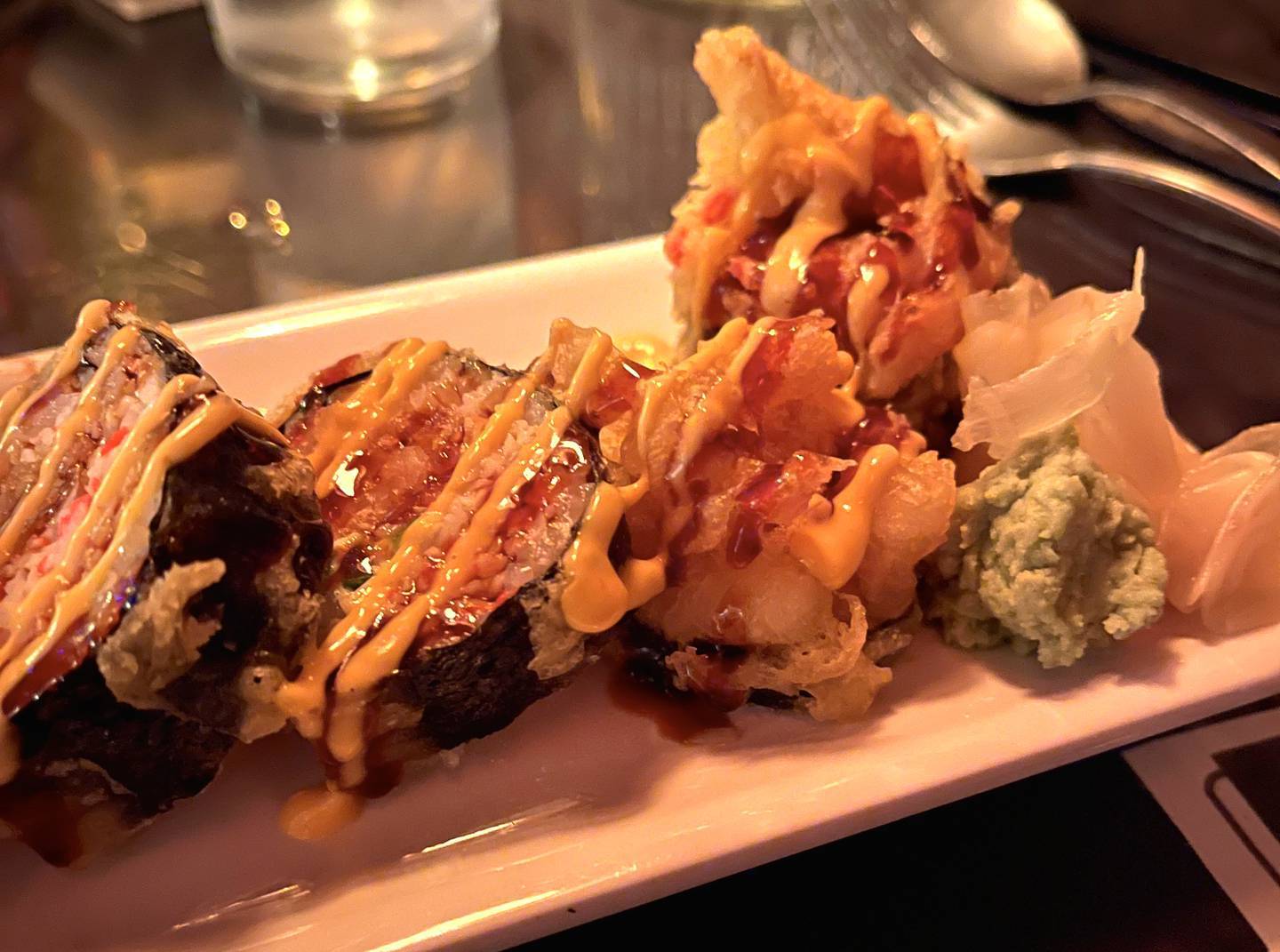 For our main course, we ordered the Dinosaur Roll ($15.99) and the Hibachi Combo ($20.99), which came with chicken, steak and shrimp, and we shared the entrees since we both love sushi and hibachi. The hibachi includes a salad with a house-made ginger dressing.
The Dinosaur Roll, which consisted of tempura shrimp, cream cheese, crab meat, jalapeño and tempura fries topped with sushi sauce and spicy mayo, was delicious with a well-balanced mix of flavors and textures.
The roll came with 11 pieces, which seemed larger than what we've gotten at other restaurants.
Koi has a variety of artisan rolls that include crab, tuna and salmon, and has standard rolls such as the California roll and a shrimp tempura roll.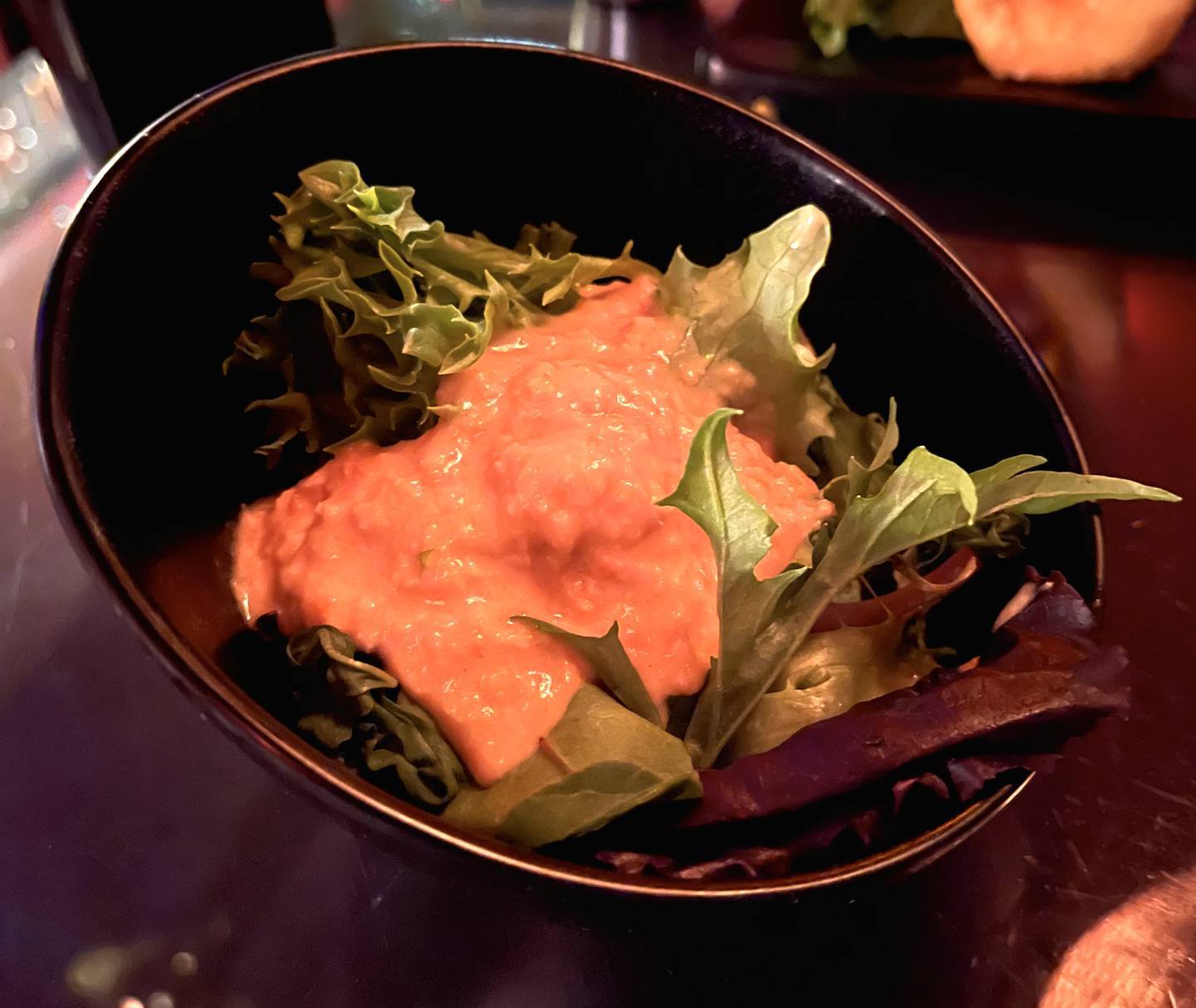 One of the nice features at Koi is the option to order sashimi or sushi a la carte with two or three pieces, if you don't want an entire roll.
For the hibachi, we ordered ours with the noodles instead of the standard rice for an extra $2. All three proteins were cooked well, and served with zucchini, onion, broccoli and mushrooms. The Yum Yum sauce had excellent flavor.
When I think of a hibachi restaurant, I picture sitting around the flattop with the chef preparing the food in front of you, typically providing some entertainment by interacting with the customers and doing some tricks with the food/utensils.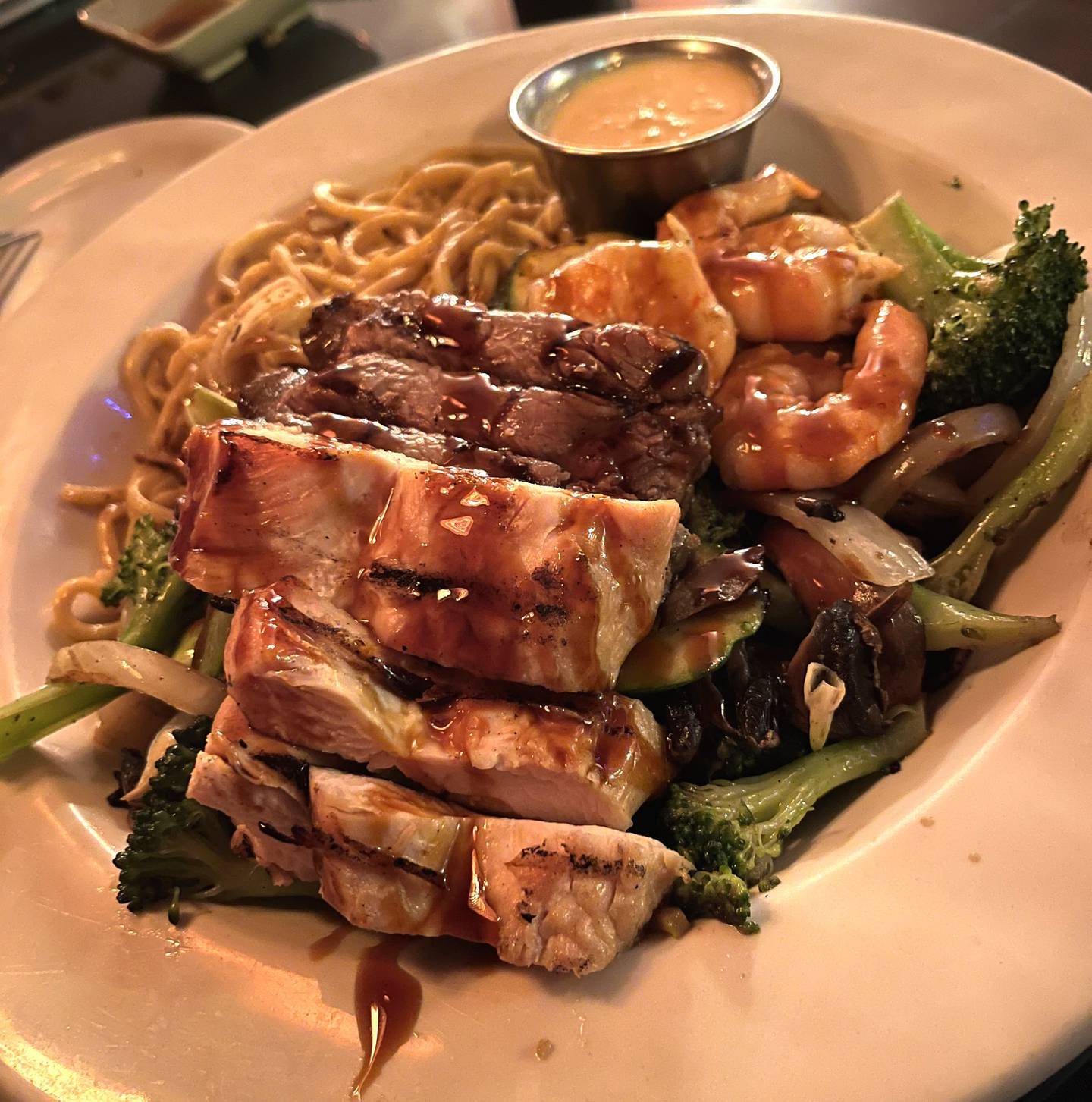 That wasn't the case at Koi, perhaps due to the space constraints of a small building, but the food was good. Along with its standout sushi, Koi also offers ramen, udon, salads and poke bowls.
While we didn't order any, the restaurant has a drink menu that includes standard cocktails such as margaritas and tequila sunrises along with a variety of beers.
At Koi, you get plenty of bang for your buck. Our bill for two was $48.34 before the tip; we found it worth it for a nice date night in a pleasant atmosphere with delicious food in good-sized portions. We look forward to returning.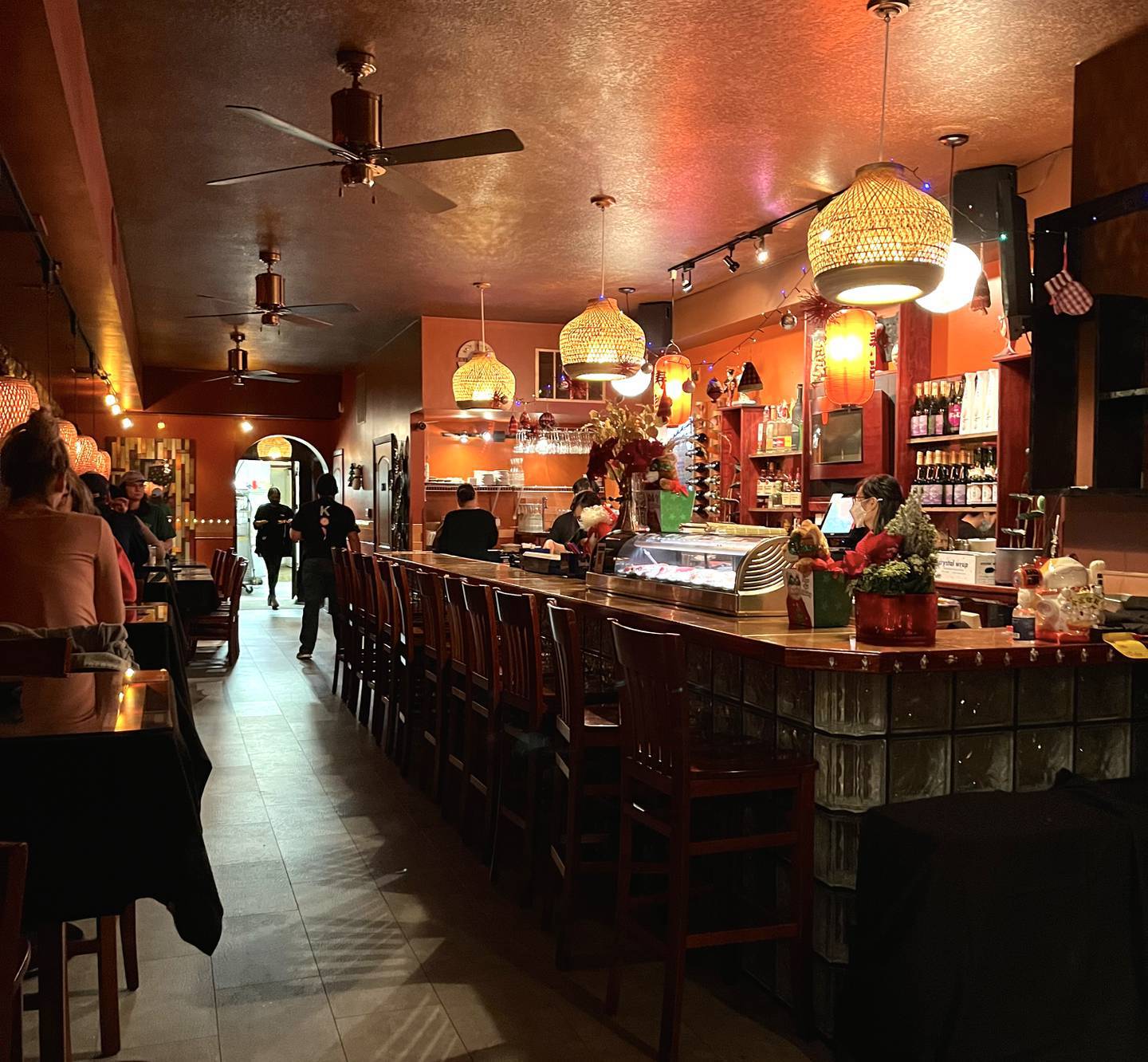 • The Mystery Diner is an employee at Shaw Media. The diner's identity is not revealed to the restaurant staff before or during the meal. The Mystery Diner visits a different restaurant and then reports on the experience. If the Mystery Diner cannot recommend the establishment, we will not publish a story.
IF YOU GO
WHAT: Koi Sushi & Hibachi
WHERE: 1519 Water St., Peru
PHONE: 815-250-0907
INFORMATION: tinyurl.com/2p85cmsd