Crack open your carabiners, experienced climbers are permitted to scale three famous falls inside Starved Rock State Park! As snow beings to melt and refreeze, this trio of popular Winter photo-ops will transform into a must-visit destination for avid climbers across the Midwest.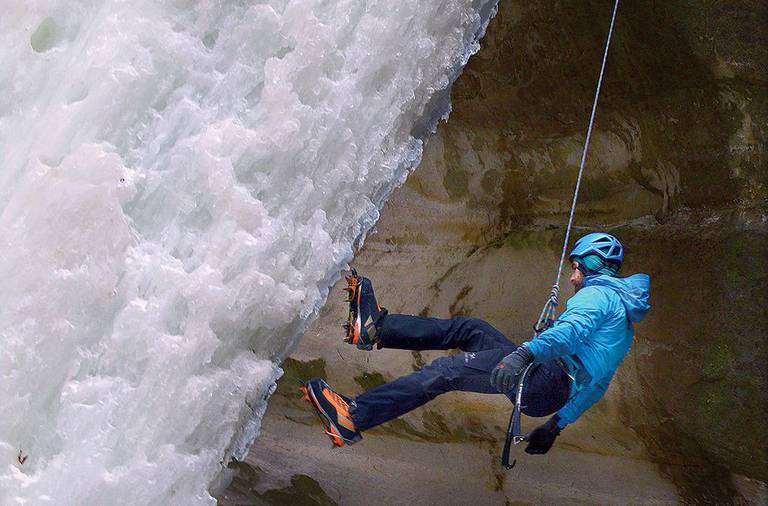 Since the early 1980′s, Starved Rock Country has been a leading wintertime destination for outdoor adventurers looking to challenge mother nature.
Every year, hundreds of experienced climbers flock to Starved Rock State Park to spend a day scaling enormous frozen waterfalls with little more than an anchor line, an ice axe and a helmet. Starting January 2nd, three ice falls will be open for pubic climbing, providing the water is suitably frozen (which remains at the discretion of climbers).
These three ice falls include:
LaSalle Canyon - A long curtain style fall, offering a milder climbing experience.
Ottawa Canyon - Often one of the widest falls in the park, also one of the first to form in the winter.
Wildcat Canyon - Easily the tallest fall permitted for climbing, a true highlight of the park for climbing enthusiasts.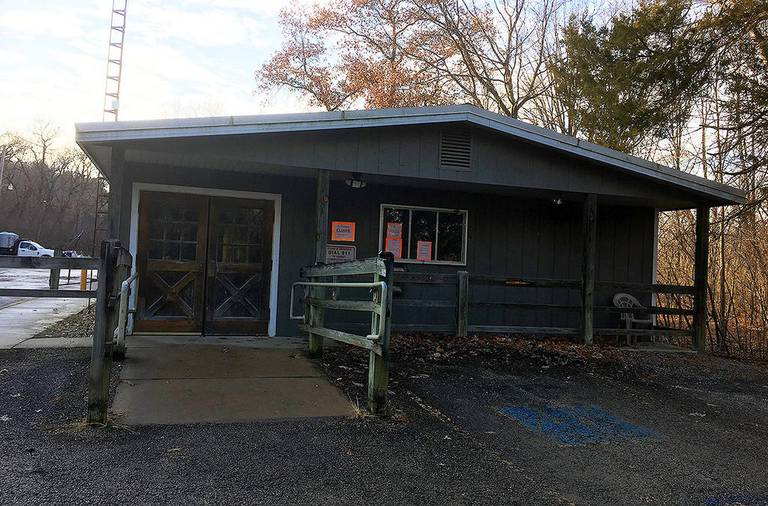 Climbers are required to bring their own equipment and have prior experience ice climbing, or have a chartered experienced guide. All ice climbing is done at the climber's risk, and they are required to sign in at the park's self check-in station prior to their climb, and once again upon exit.
This self serve check-in sheet is conveniently located outside of the park's Maintenance Building, across the road from the Visitor Center. Sign in sheets as well as rules and regulations will be posted on the wall, near the entrance to the Maintenance Building.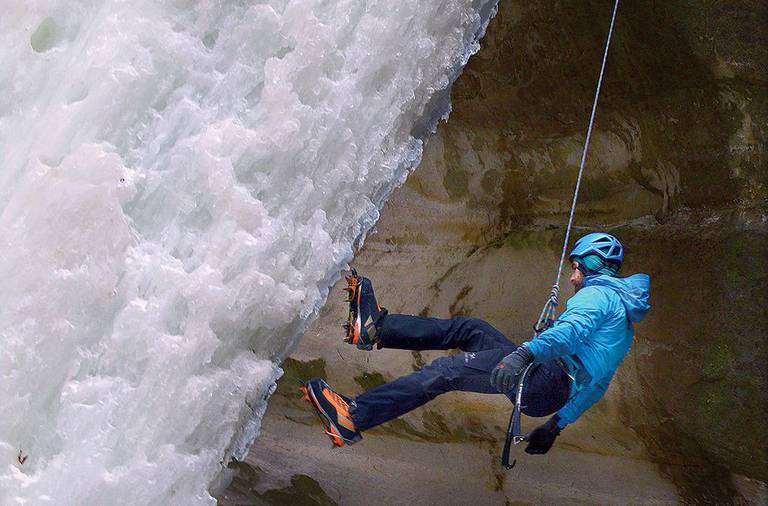 Climbing these three falls isn't for novices, here are some fast facts you should know before you start preparing to scale these frozen falls:
The Department of Natural Resources does not test the integrity of the ice, it is entirely up to the climbers to determine suitability before their climb.
Solo climbing is expressly prohibited, you must climb with at least one partner.
Ice climbing is only allowed between 7 a.m. and dusk at the park, all climbers must be off of the trail before dark.
Mixed surface climbing or any other form of rock climbing or scaling is banned in the park. Starved Rock's canyons are made out of incredibly fragile sandstone. These surfaces are not suitable for, and can be permanently damaged by climbing equipment.
All equipment, such as riggings, ice cleats, crampons, ice picks, rope, and other harmful supplies, must touch the ice/ice falls only.
Due to on-going damage and hazardous trail conditions, ice climbing will not be allowed at Tonti canyon this season.
Do not wear your crampons on the the wooden bridges and walkways.
Ice climbing is a serious endeavor and should not be undertaken without the proper training and guidance from veteran climbers. We cannot guarantee the surfaces of the ice falls will be suitable for climbing this weekend. The integrity of these falls change from day-to-day, use your discretion before attempting to climb.
Here are some handy resources to explore before you begin planning your adventure:
Midwest Outside's List of Starved Rock Climbs: www.midwestoutside.com/midwest-ice-climbing/starved-rock-state-park-ice-climbing/
Ice Climbing Lessons and Gear Rental Through Vertical Adventure Guides: www.verticaladventure.org/ice-climbing/
Starved Rock State Park's Mountain Project Page: www.mountainproject.com/area/106656040/starved-rock-state-park
Ice Climbing Essentials: www.vertical-addiction.com/us/blogs/blog/ice-climbing-packing-list-the-essentials/
For more information on Winter Activities in Starved Rock State Park, visit: www.dnr.illinois.gov/Parks/Activity/Pages/StarvedRock.aspx
Starved Rock State Park
2668 East 873 Road
Oglesby, IL 61348
(815) 667-4726