Perched above the beautiful Vermilion River, just 7 miles from the gates of Starved Rock State Park, Kishauwau's Starved Rock Area Cabins bring guests closer to nature, while providing all the amenities of home.
Join us as we tour a selection of the 17 family friendly luxury vacation units available at Kishauwau's Starved Rock Area Cabins, and learn a bit about the family that's been building and operating the cabins for more than 30 years.
Kishauwau's began in 1986 when Jamie King's family purchased a former Tonica area Boy Scout camp, with the dream of turning the property into a cabin resort. With years of hard work and a passion for the Starved Rock Country area, they renovated the site's four existing cabins and added 13 more units.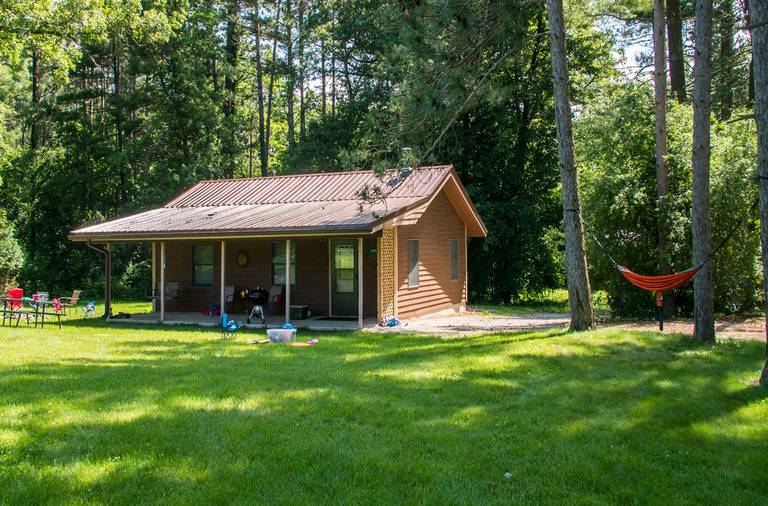 Kishauwau's 17 cabins are spaced out far enough to give guests privacy and a sense of wilderness seclusion, while still only being a short drive from some of Starved Rock Country's best attractions.
Most of Kishawau's cabins back up, or are incredibly close, to the woods that surround the site. Several of the most popular units sit next to the beautiful Vermilion River, that winds along the northeastern end of grounds.
Various cabins can host anywhere from a single couple, popular for anniversaries and getaways, to 14 people, for larger groups and family reunions. There are even four dog-friendly units, so you won't have to board Fido during your vacation.
Despite its growth in the last 30 years, Kishauwau's Starved Rock Area Cabins remains a real mom and pop operation.
"We're here full time for the guests if they need anything. It's a family owned and operated company. Kishauwau's has been in my husband's family since day one," Terisa King, co-operator of Kishauwau's with husband Jamie King, said. "There's a personal touch to everything we do. We love sharing with guests why this place is so special."
That close-knit family atmosphere is infectious when staying in Kishauwau's cabins.
"Cabins are a great way for couples and families to reconnect, it really cuts down on the screen time. Parents love that their kids get to be unplugged for a week. They talk about how they sat around and played board games for the first time in years. Every single one of them leave saying it's the best vacation they've ever had, which is so humbling," Terisa said.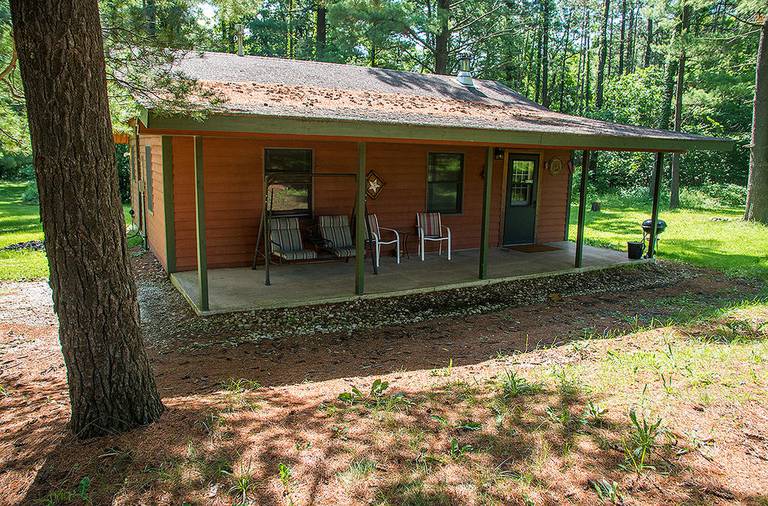 Kishauwau's Starved Rock Area Cabins pride themselves on being able to cater to any size of family, and that includes families with four-legged members.
The Winnebago Cabin is a dog friendly model that can sleep up to 3 adults (or 2 adults and 2 children). Like all cabins at Kishauwau's, it features a covered porch, grill and a personal outdoor fire pit.
Take in the serenity of nature from the included porch swing, or play some lawn games in the generously-sized yard that surrounds the cabin.
For more information on the Winnebago Cabin, visit: kishauwaucabins.com/winnebago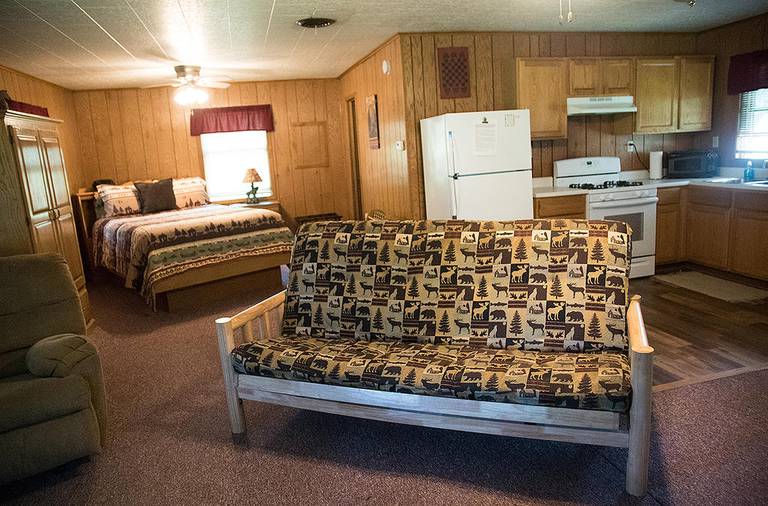 Another amenity that sets Kishauwau's luxury units apart from other lodging options is the inclusion of full-sized kitchens.
All of Kishauwau's cabins include refrigerators, stoves, and pantries stocked with the necessary pots, pans, plates and utensils needed to prepare and enjoy meals on site.
This comes in addition to the barbecue and fire pits, giving plenty of options for enjoying a meal without having to dine out.
"People can bring in any food or drinks that they want. It really cuts down on the cost of a vacation, eating at restaurants is often the largest expense on a trip. So, being able to cook in the comfort of your cabin really cuts down on the costs," Terisa King said.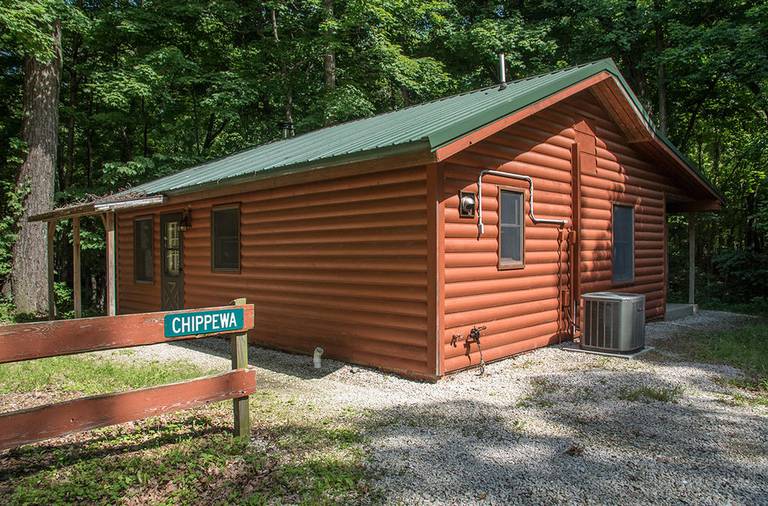 Chippewa, one of the most requested cabins on the property, can sleep up to 2 on its queen sized bed, and features an unbeatable view with its beautiful forest overlook porch.
"The first-time guests come here with every day meticulously planned out, but they rarely end up sticking to it. There's just so much to do here on the property and in the cabins. It's easy to just spend a few hours watching nature from the porch swings. In the winter months, you're bound to see a few eagles looking for fish in the nearby Vermilion River," said Terisa King.
For more information on the Chippewa cabin, visit: kishauwaucabins.com/chippewa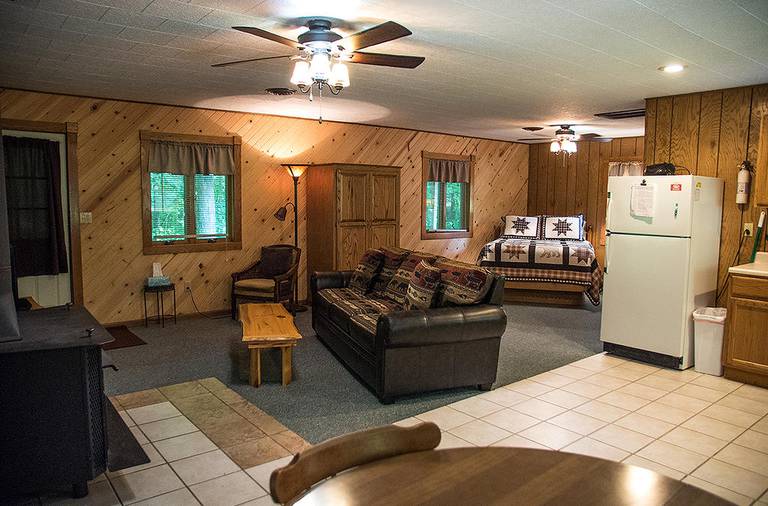 Like all of Kishauwau's cabins, the Winnebago is a four season unit, capable of housing guests year round. The central air systems make the cabins very comfortable during the summer.
For the colder months, all cabins include furnace heating, as well as indoor wood stoves or gas fireplaces, ensuring a comfortable temperature in even the fiercest of Illinois winters.
"Our cabins are very popular during the fall. Lots of people come out to enjoy Starved Rock's fall colors, and we're just down the road from the park," Terisa King said.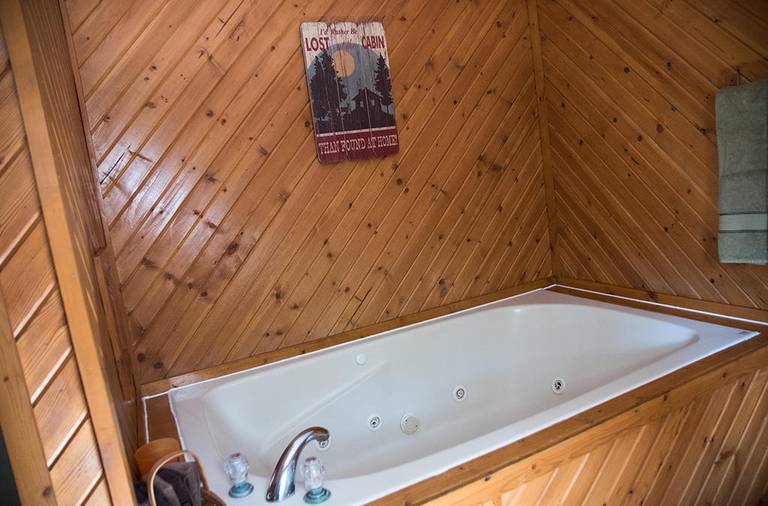 Several of Kishauwau's cabins also include deluxe whirlpool tubs, with separate showers.
The Chippewa unit includes a double sized whirlpool, surrounded by beautiful knotty pine walls. After a long day of hiking at Starved Rock Country's parks, this amenity becomes even more desirable.
"We see a lot of younger couples booking the two person cabins these days. They're doing a lot of hiking at Starved Rock and Matthiessen, so the whirlpool tubs are a big selling point. After hiking for miles and miles on some of those steep hills, it's great to be able to come back to cabin and relax in the whirlpool," Terisa said.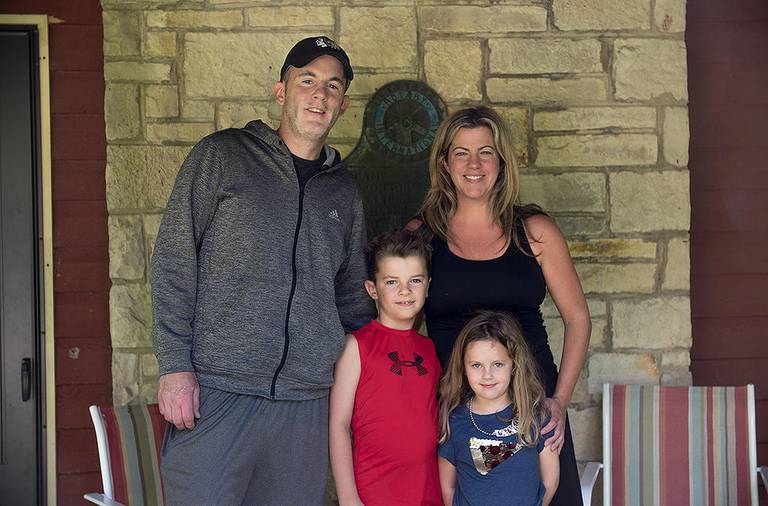 On the other side of the park, Melissa and Jim Thompson, of Huntley, Ill., spent a few nights in the Mother-In-Law cabin with their two children, Tyler and Megan.
"We had a great stay, it's quiet and slow paced out here. It's great to just get out of the house for a few days and enjoy some time in nature with the kids," Jim said.
"We were able to really relax at Kishauwau's. No phones or tablets, just some good family time. We'll definitely be back next year," Melissa added.
For more information on Kishauwau's Starved Rock Area Cabins, visit: kishauwaucabins.com
To sign up for Kishauwau's newsletter, email: kishauwaucabins@gmail.com