Starved Rock and Matthiessen State Parks are anticipated to open back up to the public on Friday, May 29th! While we eagerly await more information, take a look back at one of our favorite treks: the hike to LaSalle Canyon!
Starved Rock Hike Guides highlight popular, and lesser known, trails in some of the area's best parks. Today we'll be featuring LaSalle Canyon, considered by many to be the premier photo destination in Starved Rock State Park.
This 2.6 mile trek to LaSalle Canyon, regarded as one of the most beautiful hikes in Starved Rock, is now easier to access than ever before. The recently expanded Parkman's Plain parking lot, conveniently located along Route 71, can easily accommodate more than 80 cars.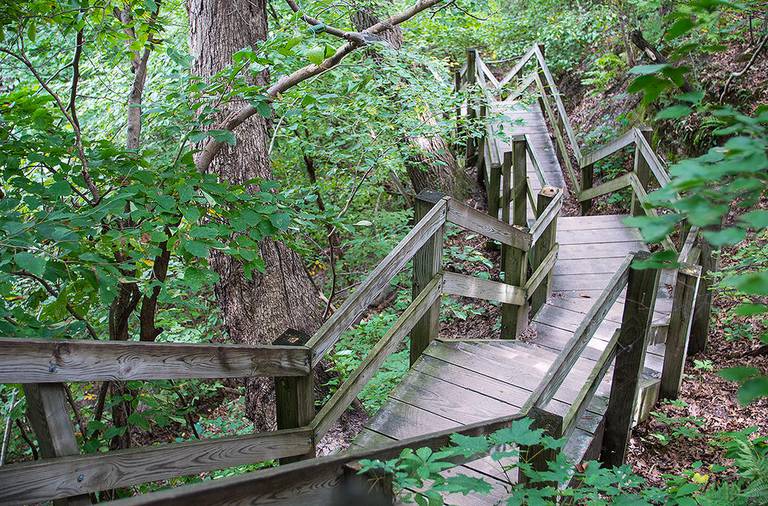 From Parkman's Plain you can access the Owl Canyon overlook, Owl Canyon, a sandstone overlook along the Illinois River, Wildcat Canyon, LaSalle Canyon and Tonty Canyon (though the main bridge is currently under repair, so your hike from LaSalle to Tonti will be slightly longer than park maps indicate).
On this hike we'll be taking the River Trail from Parkman's Plain to LaSalle Canyon.
After departing Parkman's Plain, you'll take a short flat walk to where the River Trail and Bluff Trail diverge. The Bluff trail would take you to Owl Canyon and, eventually, Hennepin Canyon further to the east. If you're looking to explore the latter, consider parking at the Hennepin Canyon Overlook lot, along Route 71.
As you continue along the River Trail, you'll encounter an enormous set of stairs that will take you down to the banks of the Illinois River. Come fall, this jaunt is particularly beautiful, with the stairs winding between sparse trees, providing the occasional glimpse of the flowing river below.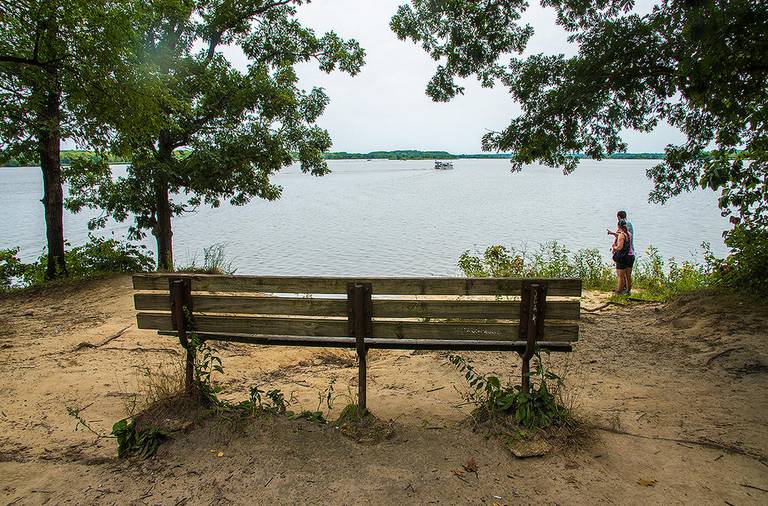 Once at the base, you'll be treated to a close-up view of the Illinois River. The many observation points along the trail make for excellent birding and boat watching sites. On the day we visited, Starved Rock's official tour boat, "Eagle I", could be seen cruising past the River Trail.
Few other points in Starved Rock State Park will get you this close to the river, providing a beautiful alternate view to the dense forest trails that encompass most of the park.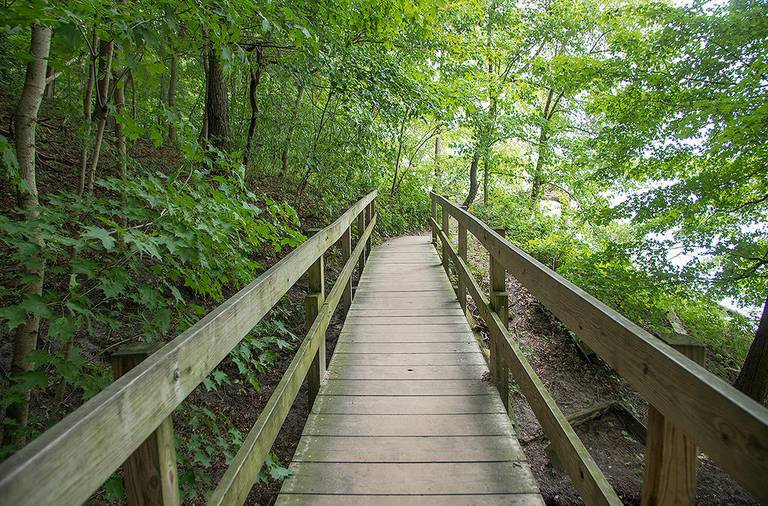 A number of beautiful wooden bridges line the route, adding a sense of adventure to your LaSalle Canyon hike. To your left, you'll spot several smaller canyons and sandstone gorges as you wind your way northwest.
After a small bend you'll run into a tree with a short set of stairs leading up to it. This unusual site is a perennially popular Instagram location, so be sure to take a few pictures as you hike past it.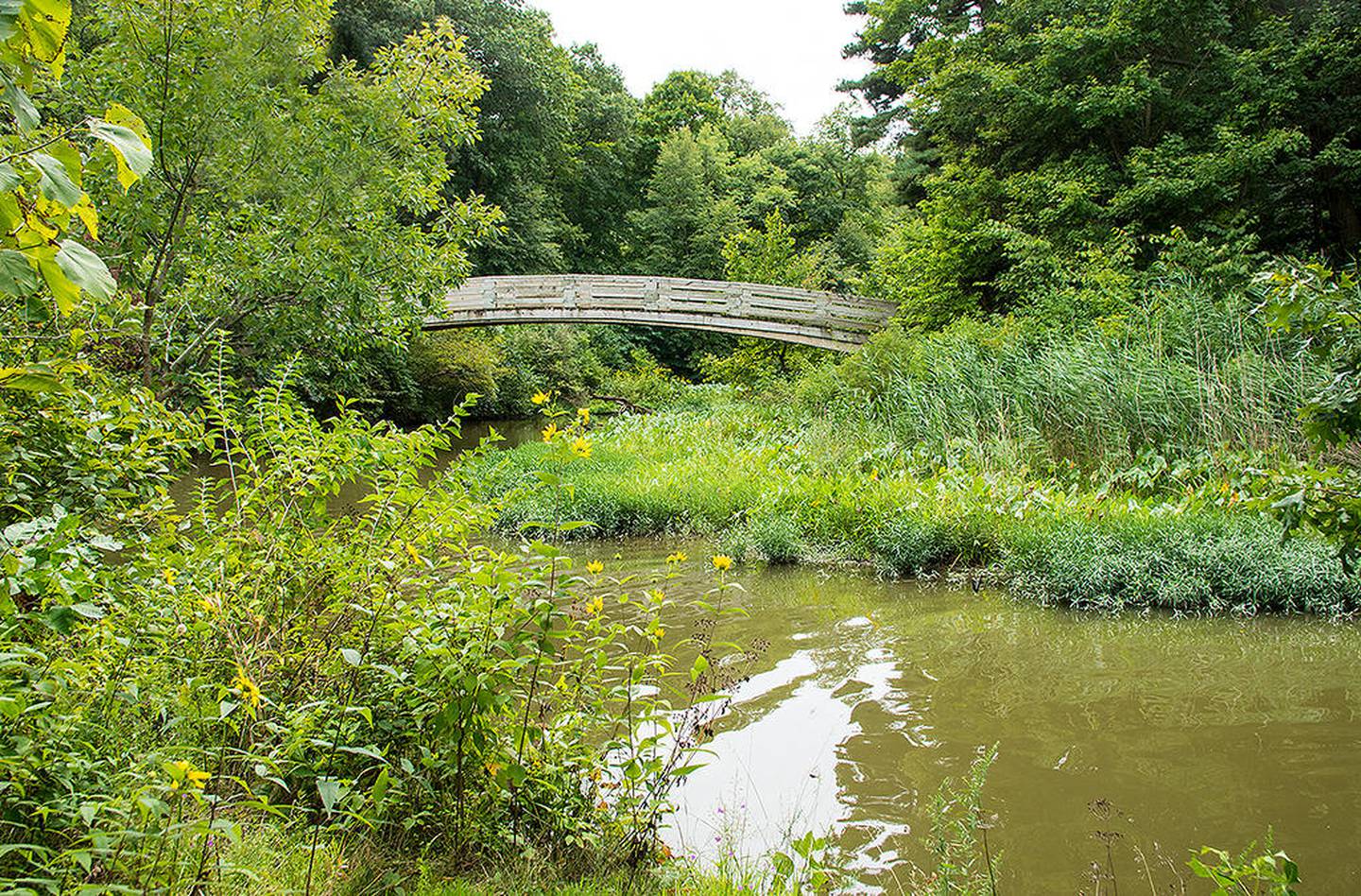 Next you'll encounter "horseshoe bend", a u-shaped turn in the River Trail that snakes you inland, closer towards LaSalle Canyon.
Near the beginning of the bend you may notice a clearing off to your right. Located along a small tributary, this observation point provides a beautiful view of the arching wooden bridge that connects the river trail to the northwest Wildcat Canyon. This is one of Starved Rock's best photo ops, so be sure to take quick diversion to it on your next hike.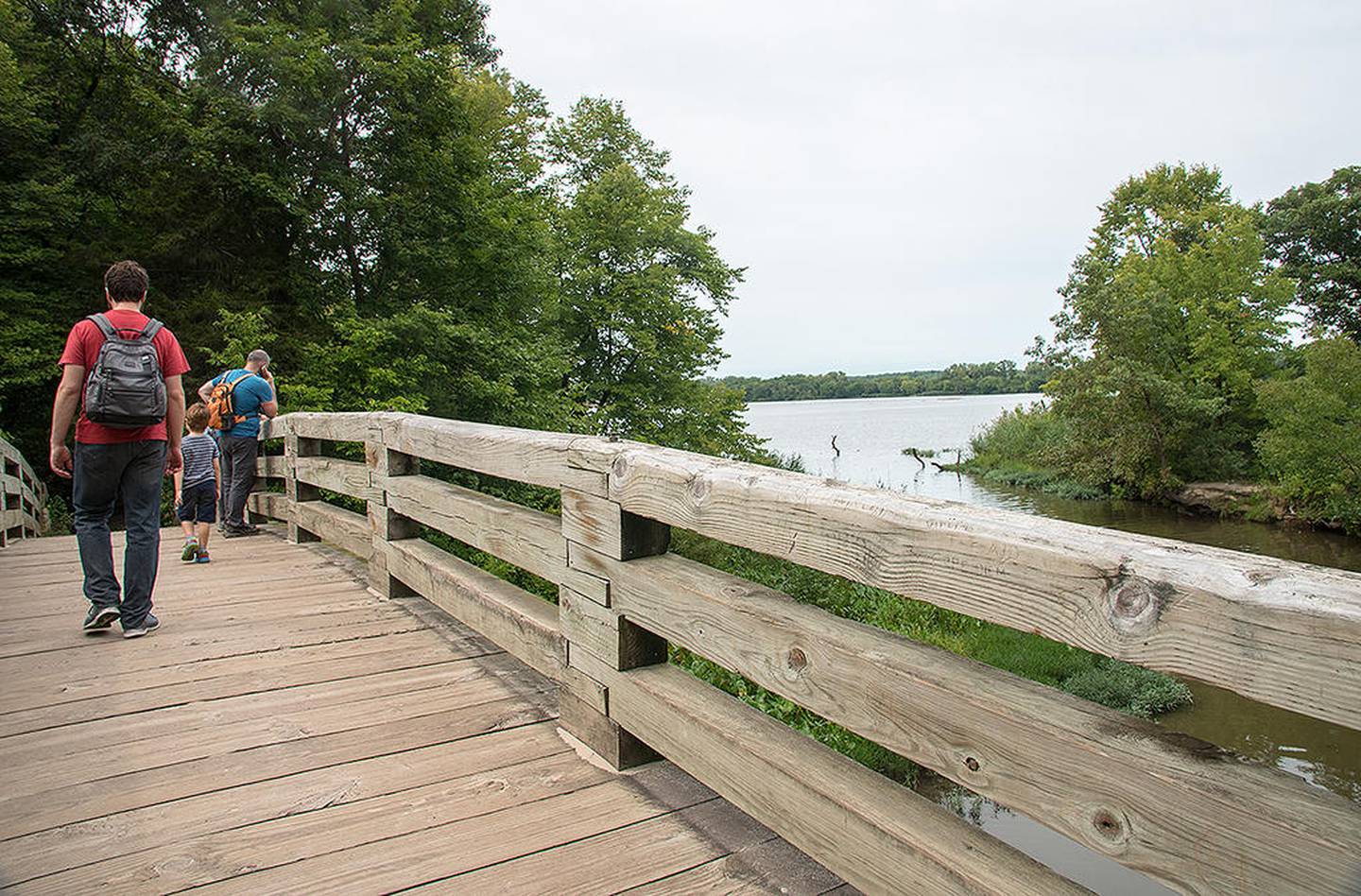 Form here, you'll take a diversion away from the River Trail, which continues over the bridge and along the banks of the Illinois. If you continued on that path you'd eventually get to the Sandstone Point Overlook, Lone Tree Canyon and Wildcat Canyon.
Instead you'll take the trail marked LaSalle Canyon, which will quickly begin snaking you along the base of steep sandstone walls. With just a short walk inland, you'll feel like you're in a radically different locale than the flat River Trail.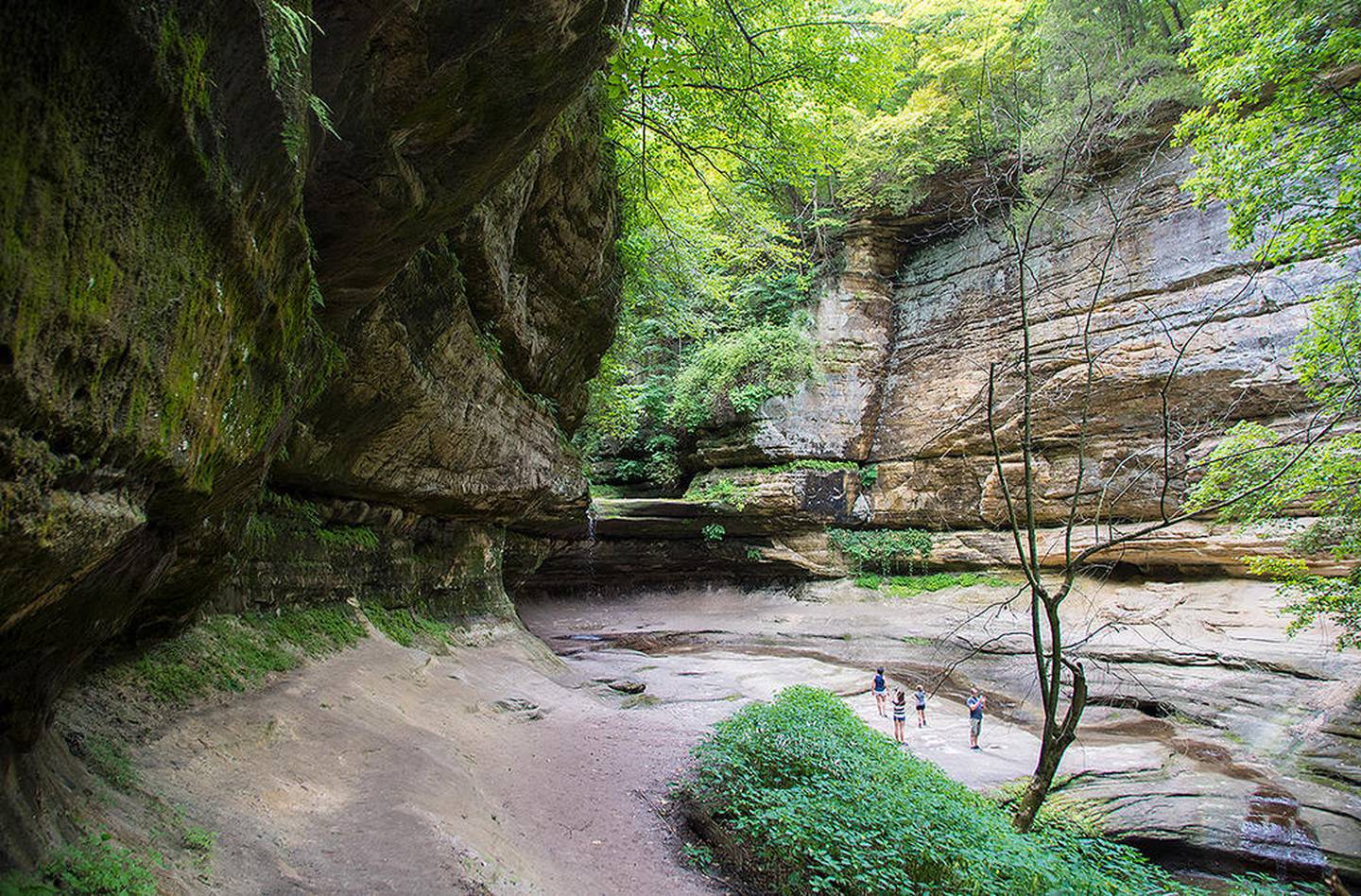 From the trail narrow cliffside trail, you'll arrive at your destination. The cavernous LaSalle Canyon is one of the most photographed locations in the entire park, your hike towards the mouth of the canyon will slowly reveal why this stunning site is so popular among photographers.
Outside of the nearby Matthiessen State Park, there are few other locations in the Starved Rock Country parks that display depth and drama quite as well as LaSalle Canyon. With it's large sandstone overhangs, formed by eons of glaciers and rising tides, and a sharp low plateau, that creates a beautiful wide brim of water during the rainy season, LaSalle Canyon feels otherworldly and entirely unexpected in flat Central Illinois.
The most exciting feature of LaSalle Canyon is the waterfall that runs nearly all year long. While many of Starved Rock's more famous falls are highly seasonal, and dependent on rainfall, LaSalle Canyon boasts at least a trickle of water nearly all year round. A beautiful ice fall usually forms at the canyon during the winter, one of the best specimens in the entire park.
From here, you can hike behind LaSalle Canyon's waterfall to access the trail that takes you to Tonty Canyon. While the bridge to Tonty is currently closed, this is your best (and only) way to see one of Starved Rock's hidden gems. Located less than .4 miles away from LaSalle, Tonty is an excellent addition to your LaSalle Canyon hike.
For more Starved Rock Hike Guides, sign up for our newsletter or like us on Facebook!
Starved Rock State Park
Parkman's Plain Parking Lot
Route 71
Oglesby, IL 61348