For more than 80 years the Starved Rock Lodge has been the consummate hotel nestled in nature. It's only about an hour away from Chicago, but its cliffside panorama of the Illinois River and stunning view of Starved Rock, make it feel worlds away.
"This is what you think of when you hear the word lodge," said Walt Wirth, a Joliet native and frequent guest at the Starved Rock Lodge.
Join us as we take a tour of this historic lodging option.
The first thing you'll notice, when approaching the lodge's welcoming wooden double doors, is the vast amount of art surrounding the property.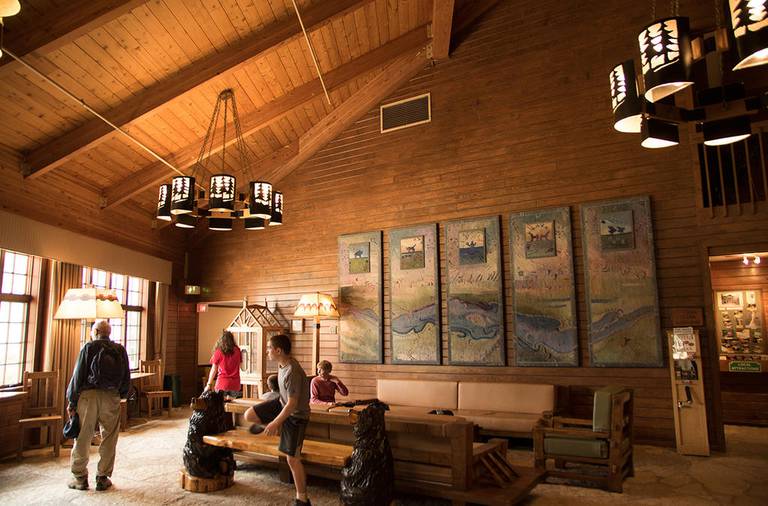 Considered to be the largest collection of chainsaw carvings in Illinois, this set began in 1988 when then lodge CEO Terry Cross commissioned a few woodcarvings from fallen trees.
"Over the years he accrued this impressive collection of outdoor art. His philosophy was 'Get lost in nature, and you will find yourself'. These pieces were meant to exemplify that," said Starved Rock Lodge Marketing Director Kathy Casstevens.
This larger than life assembly of public art has since grown to more than 40 pieces in a variety of mediums. The chainsaw carvings still remain a nostalgic favorite among park guests.
The art collection spills into the lobby, where you'll find a five-panel mural of the Illinois River hanging on the knotty pine wall.
Across from that, the Starved Rock Café offers a wide variety of fudge, souvenirs, and snacks. The snack bar is a must visit for hotel guests and hikers alike.
If you continue past the rustic lobby furnishings and the souvenir penny smasher, you'll find the check-in desk. There, the desk clerks will be able to assist you in making a reservation or checking in.
Built during the heart of the great depression by the Civilian Conservation Corps, the lodge blends its rustic décor with the amenities guests have come to expect from a modern lodging facility.
If you're looking for an authentic lodge experience, consider booking one of the 41 lodge-wing rooms. These cozy rooms were part of the original 1930′s construction, they feature original knotty pine paneling and are closest you'll get to recreating a vintage stay at Starved Rock.
The lodge's 28 room hotel-wing, built in 1988, provides the same charming décor and conveniently close access to the lodge's indoor pool.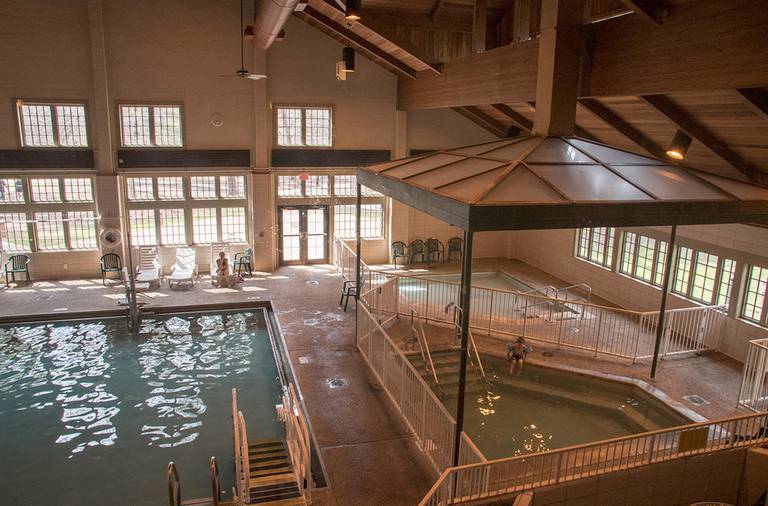 The lodge appeals to guests of all ages. Take for instance the expansive indoor pool, that also houses a generously sized hot tub, gated off for adults.
"We're appealing to multi-generational tourists. This weekend is Spring Break, so we have a lot of grandparents with their grandchildren staying with us. It's a growing demographic and the lodge is a perfect destination for them," Casstevens said.
In addition to the pool and hot tub, the lodge also offers a generously sized sauna and massage packages.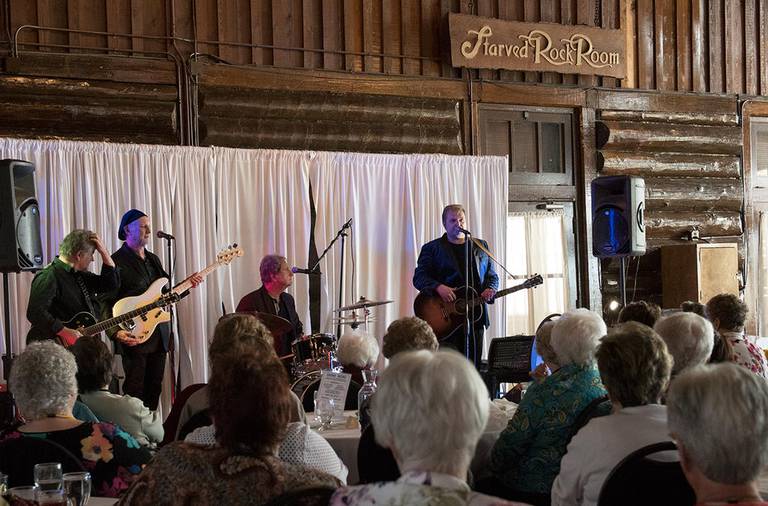 But the lodge isn't just a home base for vacationing families, hikers and sightseers, it's also a must-visit music destination.
With nearly 60 "Tribute to the Stars" matinee shows offered every year and weekly concerts in their bar and veranda, the lodge has staked its claim as one of Starved Rock Country's premiere music venues.
On the day we toured the facility there was a Johnny Cash tribute band performing in the cavernous great hall, to rave reviews.
"We've been here a few times before, but this was our favorite show so far. We really like rockabilly, so this was right up our alley. We'll definitely be back," Darien resident Hank Coulson said.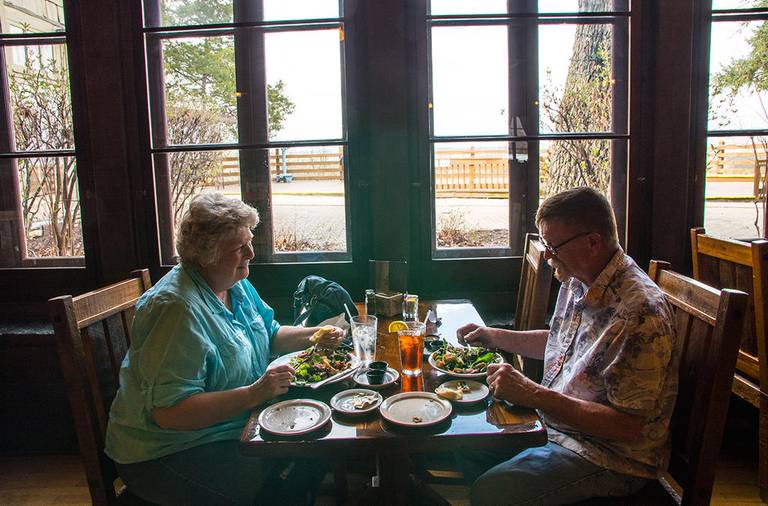 Next to the Great Hall is the lodge's main dining room.
This on-site restaurant is a widely considered to be one of the best fine dining options in the area. Locals recommend the Saturday night prime rib special.
The dining room also offers a Sunday brunch destination if you're looking to refuel before spending another day hiking the trails.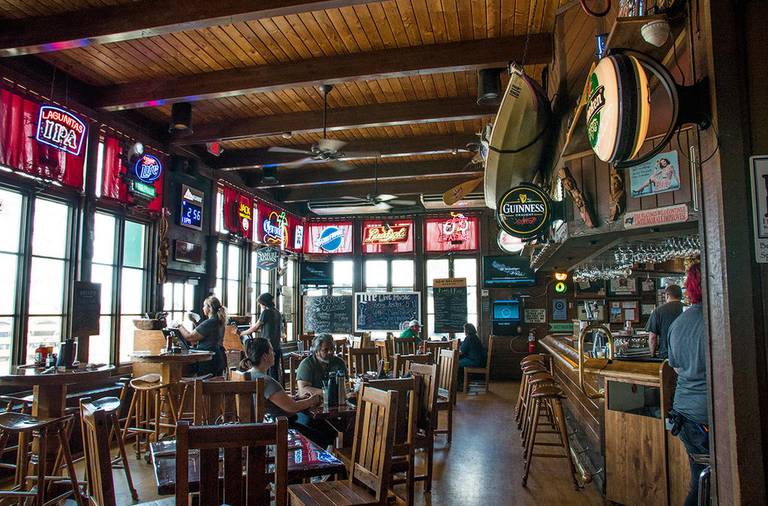 If you're looking to grab a locally brewed Tangled Roots beer, or sample a glass of La Salle-grown August Hill Wine, The Backdoor Lounge can't be missed.
Featuring walls lined with canoes, taxidermy and vintage beer ephemera, you'd be hard pressed to find a lodge watering hole with more atmosphere.
"They've got a good beer selection, and not many bars have a view like that," said Bill Rybak from Glenview, gesturing towards the large picture windows in the rear of The Backdoor Lounge.
Outside the restaurant and bar, a sprawling veranda that provides an unmatched cliffside view of Starved Rock and the Illinois River.
Connie Stone, from Orland Park, makes a point to stop by the veranda every time she and her friends visit the area.
"We don't do much hiking these days, we'll just come up here and enjoy the view for a few hours before heading to Utica or Ottawa to do some shopping," Connie said.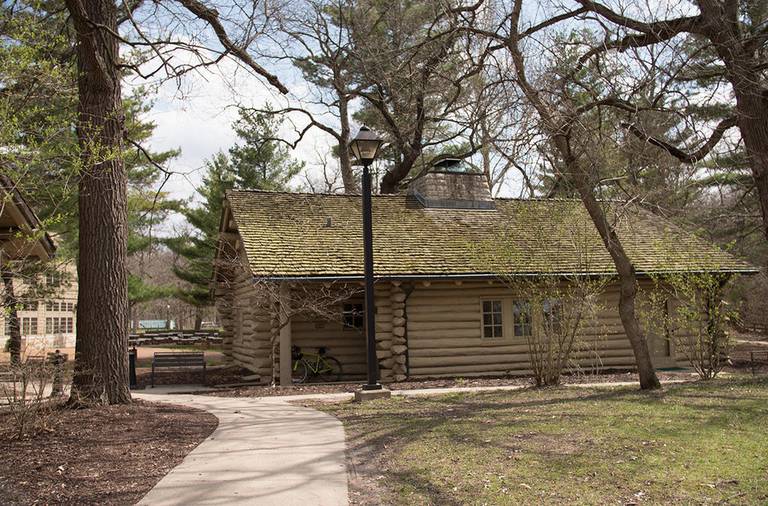 If you continue on the pathway that runs along the veranda, you'll see a few of the lodge's cabins.
The Starved Rock Lodge offers a selection of 16 fully furnished cabins to rent. Built in conjunction with the original portion of the lodge in the early 1930s, these rustic offerings provide the conveniences of television, wi-fi, and indoor plumbing, while still bringing you one step closer to nature.
That's not a figure of speech, the sunset style cabins are located directly on the trailhead to St. Louis canyon, while the Pioneer cabins are just a short walk from the French canyon and Fox canyon trails.
"All cabins have been renovated with air conditioning and heating, to further improve the guest experience," Casstevens said.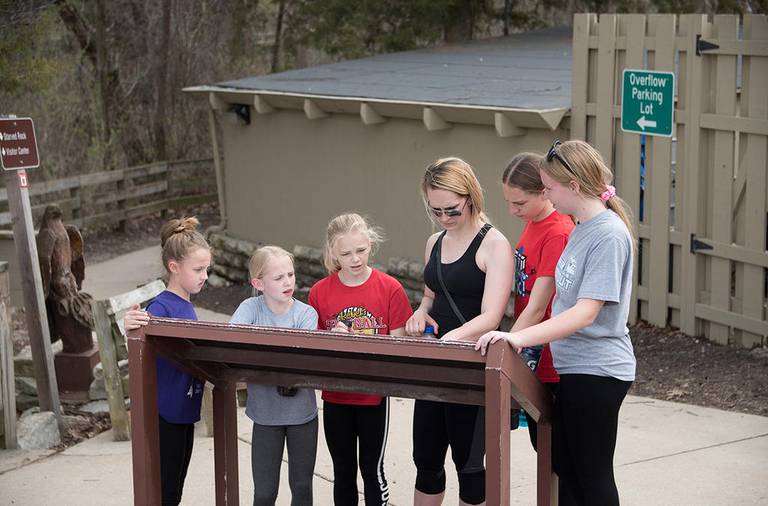 For more information on the Starved Rock Lodge and Conference Center, visit www.starvedrocklodge.com or call 815-667-4211.