Nestled along the Nettle Creek, about a half-hour drive to the east of Starved Rock State Park, you'll find one of the area's best kept secrets, the Nettle Creek Lavender Farm.
Established formally in 2012, the Nettle Creek Lavender Farm is a full-fledged botanical wonderland. This rural farm is a must-visit site for any plant enthusiasts passing through the area, particularly, those who love lavender.
The farm grew out of Maggie Smith's passion for plants. A decade ago Smith was working full-time in retail, and gardening on the side as a hobby. While experimenting with herbs, she was struck with the beauty and versatility of lavender, in addition to it's famous fragrant scent.
"There are over 450 different varieties of lavender, I don't think people realize just how many types there are," said Smith on tour of her farm. "Some are better for food and potpourri, others are perfect for essential oils and cut flowers. We have 17 varieties being grown on the farm now, about 12 of those in large quantities."
Smith decided to turn this passion into a business when her family moved to Nettle Creek, a rural community located in western Starved Rock Country. Over the last decade, Smith and family have transformed their 4 acre yard into an expansive speciality farm. Long rows of flowering lavender run parallel to their driveway, while the family home overlooks beds of perennials and busy beehives.
Towards the front of the property, you'll even spot a wooden stand that sells a wide variety of products made from the flowers and herbs grown on the farm. Everything from fresh cut lavender, dryer sachets, candles, potpourri, essential oils and jugs for picking your own flowers are available for purchase. Hours for this farm stand can be found at: facebook.com/nclavenderfarm
The products Smith makes from her farm have become perennial favorites at local farmers markets, garden shows, and can even be found for sale inside Morris' True North, one of Starved Rock Country's most popular vintage and home decor stores.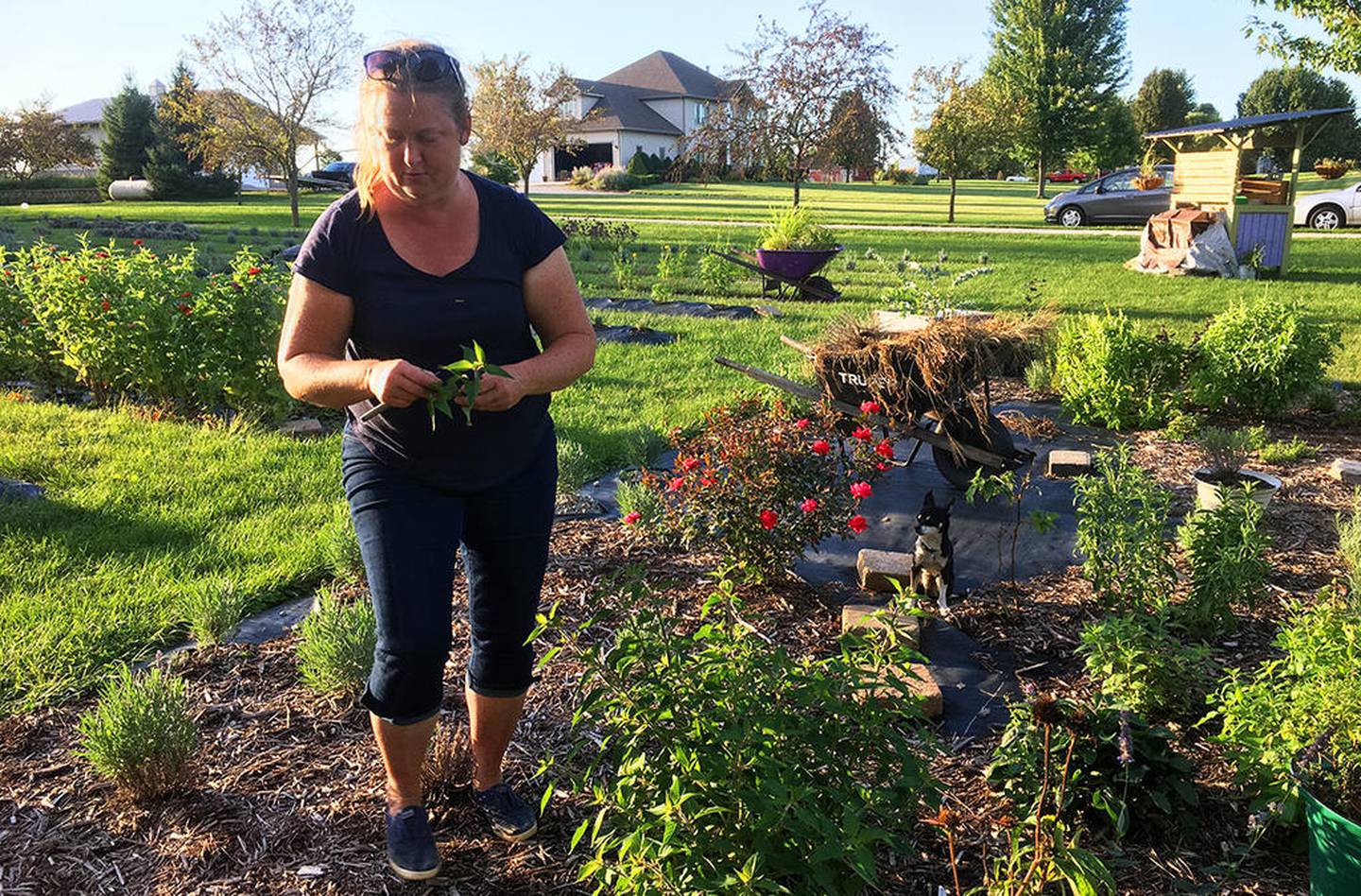 Smith, now the president of the Illinois Herb Association and a board member of the Illinois Speciality Grower's Association, has become an expert on lavender, herbs and flowering foliage.
On a tour through the rows of plants, Smith proved to be a wealth of knowledge on the topic of lavender. She explained that their legendary scent comes from the oils inside them, so while the flowers give off the wonderful fragrance, their stems and leaves retain quite a bit of oil. She recommends people keep both of these, as they can be dried and used in a wonderful potpourri.
Thicker lavender stems, like those found on violet intrigues, can be soaked similarly to applewood and used as a flavorful BBQ skewers.
What you can use your lavender for will be determined by when you pick it.
"This one's a little early, it does have some buds, but you'd want to wait until a few more are open. If they were being collected for distilling for oils, we'd want to wait for at least 50% of the flowers to be open, but before they go to seed yet, but as the flowers open up, the oil inside them begins to build up. Which is what's needed for collecting oils," said Smith.
In addition to regular farm stand hours and u-pick flower dates, Nettle Creek Lavender Farm hosts a variety of special activities, like this past weekend's farm tour and other classes.
"I've hosted tours for single people during open house hours, all the way up to large corporate retreats and garden clubs. We also host a lot of tutorial classes, both at the farm and out in the community. For a set price we provide all the materials you'll need to make beautiful wheat and lavender wreaths and blueberry lavender muffins. Those are just a few of our recent workshops," said Smith.
The farm also hosts regular drop-in yoga classes, where you can bring your own mat and enjoy a session of stretching between rows of fragrant lavender. You'll even be accompanied by Kiwi the Chihuahua, the resident farm dog.
"Since goat yoga is so popular right now, we're looking into offering Chihuahua yoga," added Smith with a laugh.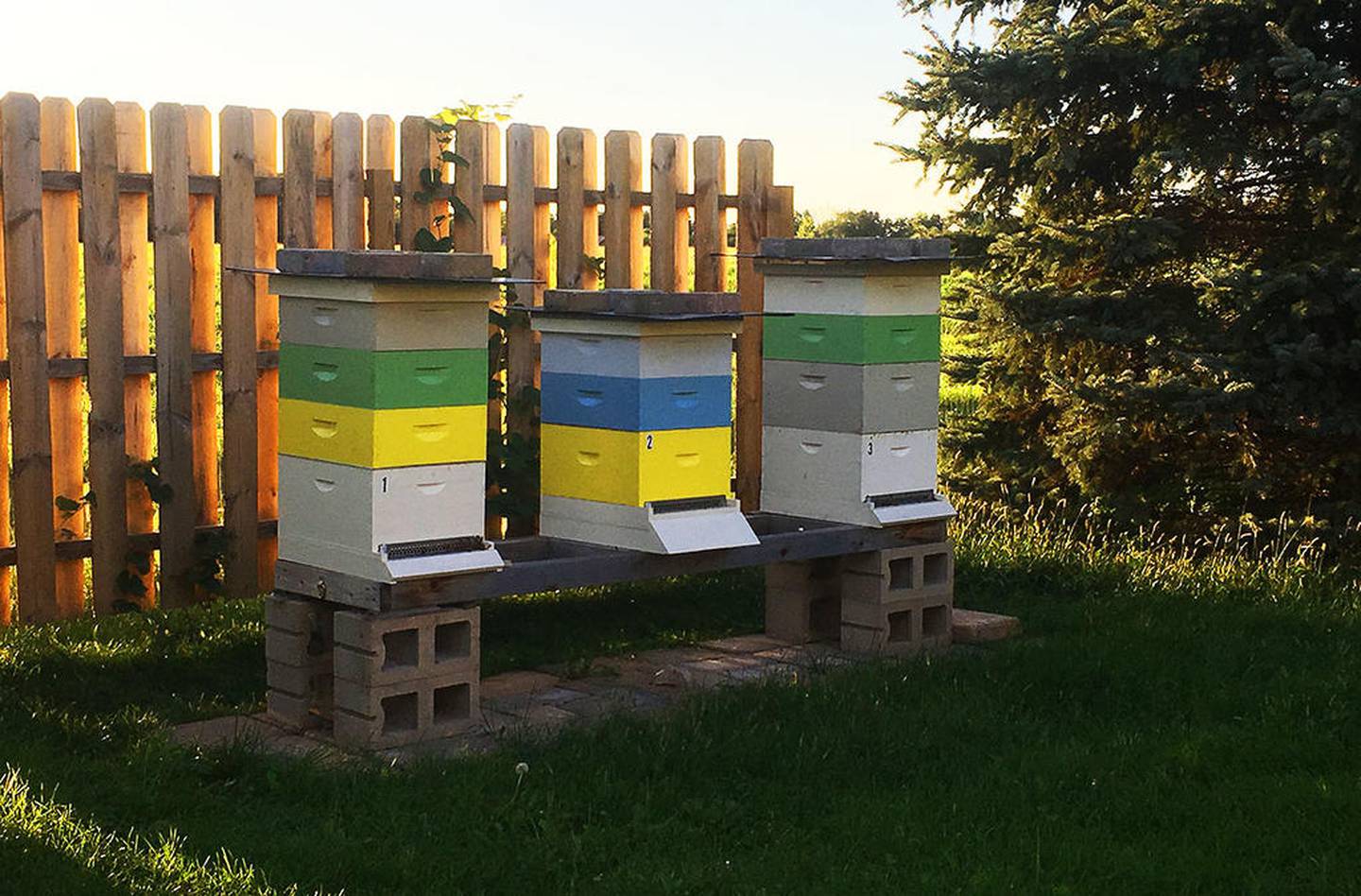 Towards the back of the farm you'll see a number of colorful beehives, buzzing with activity.
"We're going into our third year of having bees. The first year we lost all of our hives, they were weak ones we received from friends of ours and they didn't have much of a chance. But the next year, we ordered some new hives," said Smith. "We wrap our hives in the winter with black corrugated material to insulate them, and give them fondant and sugar water to supplement their honey. We also put up a small fence behind the hives, to cut down on some of the harsh winds."
Just a few short weeks ago, Nettle Creek sold their first batch of wildflower honey.
"Last year we got about 15 pounds, which we kept all for ourselves. This year we got nearly 50 pounds, and we sold out of that really quickly. We should be harvesting some more here shortly, but that'll be a small amount…about 20 lbs or so."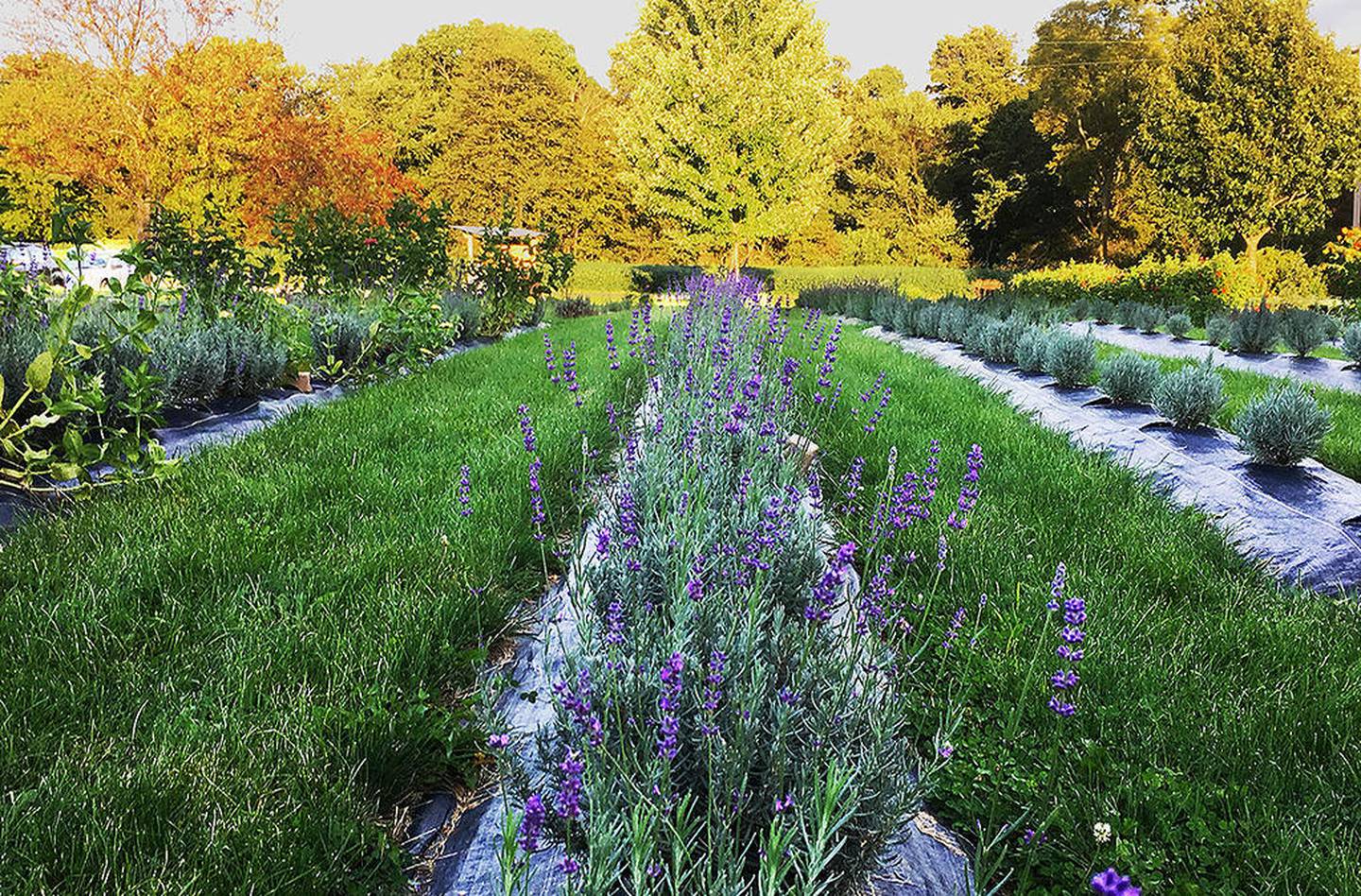 Smith continues to expand her farm every year. Upcoming additions include one or two more rows of cut flowers and lavender, as well as some new cherry trees.
"We had one tree planted this year, but unfortunately a raccoon decided it wanted to eat the cherries. It climbed up the little tree, and it snapped in two," said Smith. "We'd like to plant more, but we'll be a little more preventative this time around, using bonemeal to repel the raccoons. We're planning on adding a small grove of about 17 or 18 dwarf cherry trees, so we'll be able to start offering some u-pick cherries in the springs. It won't be a big operation, but people love to get cherries fresh."
Another fun project will be Nettle Creek Lavender Farm's 'bed of bed'.
"I recently received an antique metal bed frame, we'll be tuning that into a big flowerbed full of lavender. It'll make for for a really pretty space, and some great photo ops."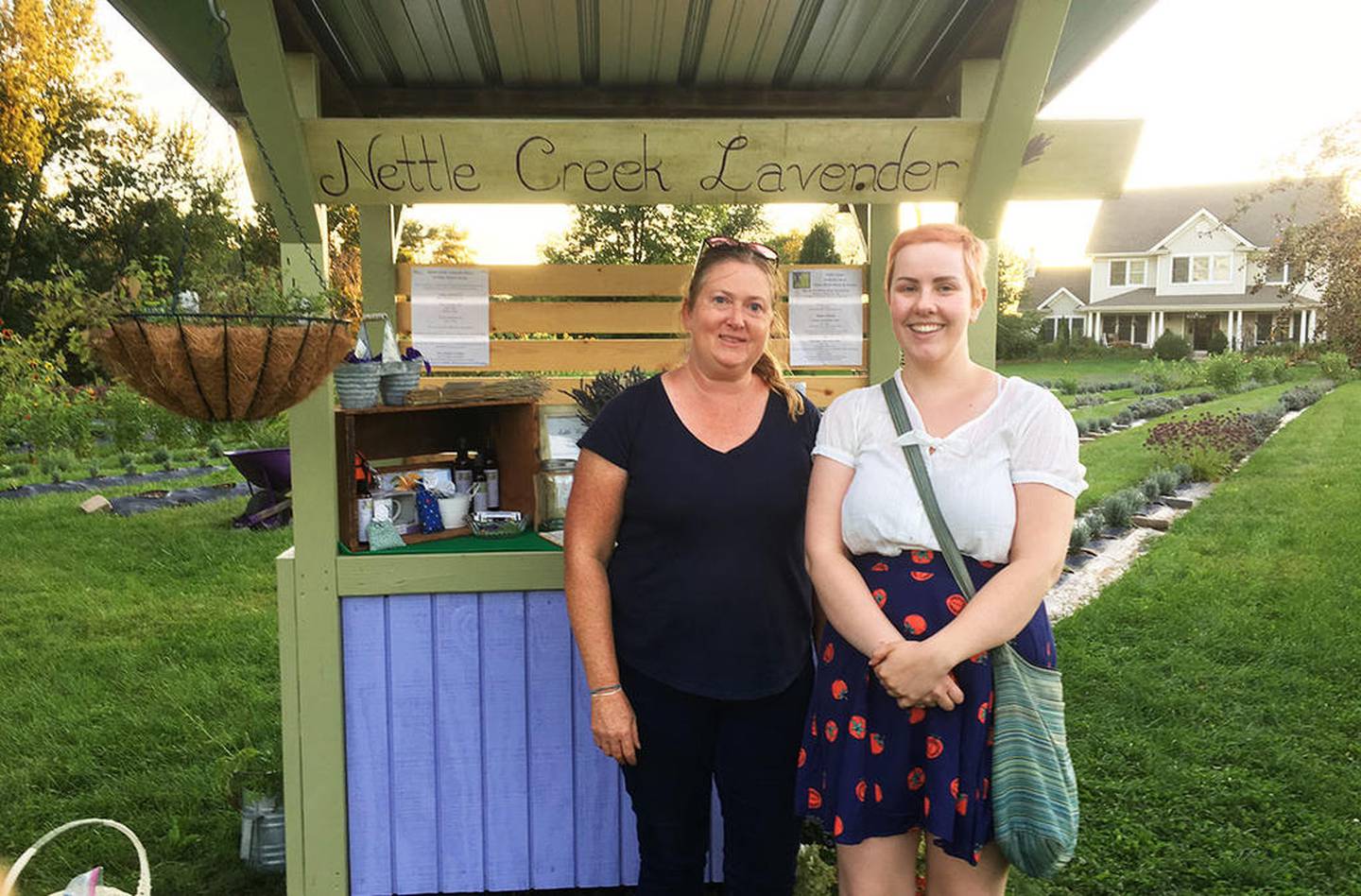 As the tour concluded, Smith told another botany enthusiast that she was already in the process of adding a new addition to the grounds.
"This was a wheelbarrow my husband was going to throw out, I told him we had to keep it. Everything is a future planter on this farm," Smith laughed.
For more information on Nettle Creek Lavender Farm, visit: www.nettlecreeklavenderfarm.com
To see the farm's hours and schedule of events, visit: www.facebook.com/nclavenderfarm/
Nettle Creek Lavender Farm
8255 Pioneer Road
Morris, Illinois 60450
(815) 325-1770