The Starved Rock Lodge and Conference Center provides water cruises with unbeatable views of the Illinois River and Starved Rock's majestic sandstone bluffs. This fascinating group tour is peppered with historical and geological facts, as well as excellent birding opportunities. Join SRC Magazine contributor Brent Bader as he takes a guided boat ride aboard the Eagle I.
John and Renae Essman, of Streator, picked a picture-perfect day to be on the river.
It was blue skies and warm temperatures as the couple spent the day with Bernard and Rachel Handzus, of Dwight, while sailing along the tranquil Illinois River as part of a Starved Rock Lodge dinner cruise. Asian carp flopped up from the water to greet the travelers and a few eagles were noticed by keen eyes high overhead. And the good news is, the views are only expected to get better in the coming weeks.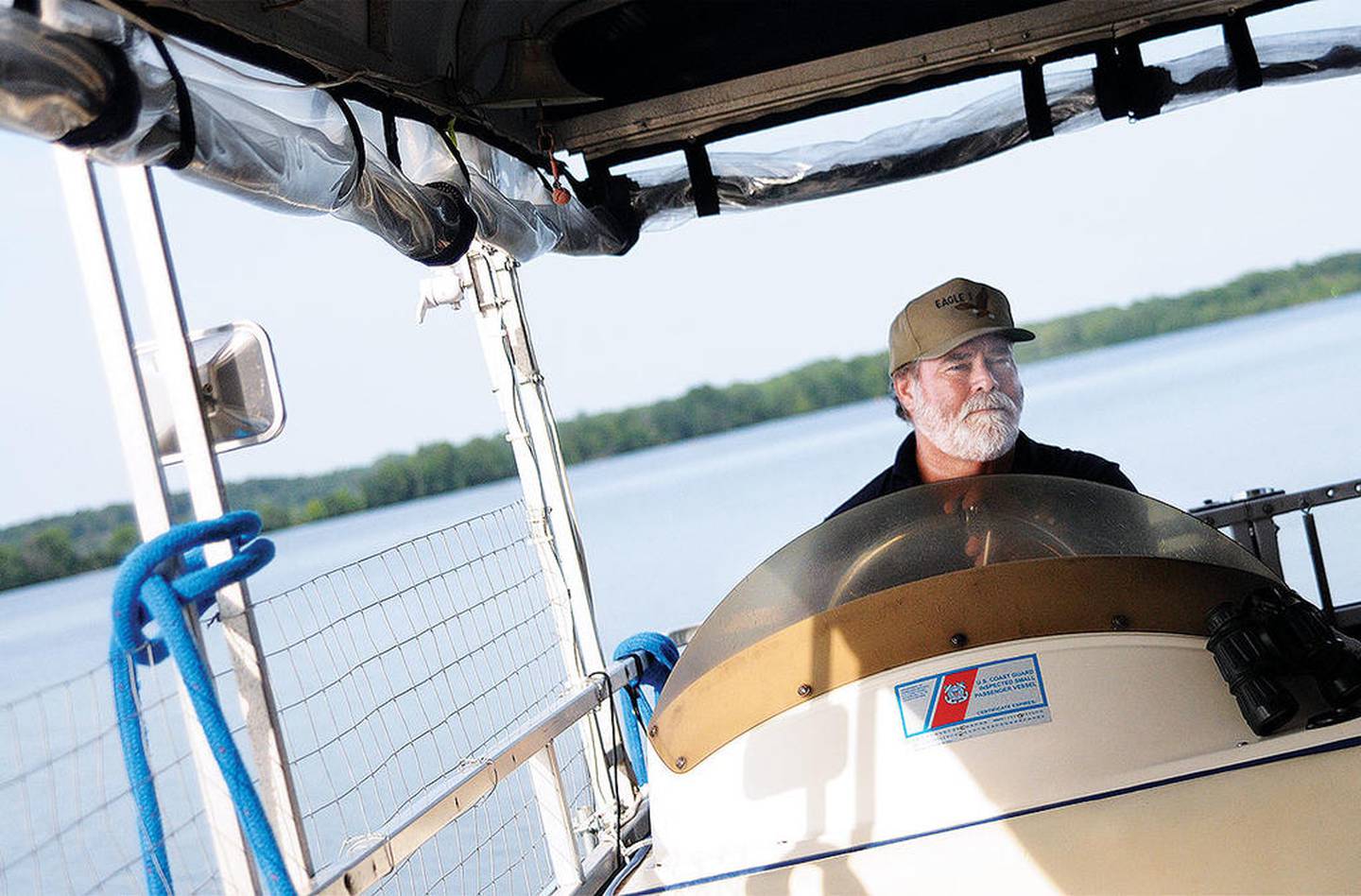 Captain Randy Malcolm is a veteran sailor and recently found his way back to the area after spending some time in Florida. He now captains the Eagle 1 along the eastern edge of Starved Rock State Park, one of the first tour boats in a long while to show guests a long undiscovered angle of the park.
"I've always liked this eastern edge of the park, up by the dam," Captain Randy said. "So we're revisiting history because the last tour boat that ran this section here was in 1973 or 1974."
"It's almost like we have this all to ourselves out here, which is really nice," he later added.
And repeat visitors may find something new to love about the park with additional visits. The coastline, which was a beautiful collage of emerald shades in July, will be awash in shades of red, yellow and orange in early fall.
"Last year we did Autumn on the River and if you've ever seen any of the old pictures the whole bluff line is spectacular with reds and oranges," Captain Randy said. "Hopefully Mother Nature will be good and it'll be a beautiful fall."
He has become a history buff of sorts regarding the park, as has tour guide and accomplished hiker Joe Jakupcak who shares his knowledge of the park and its trails as they sail along the coast.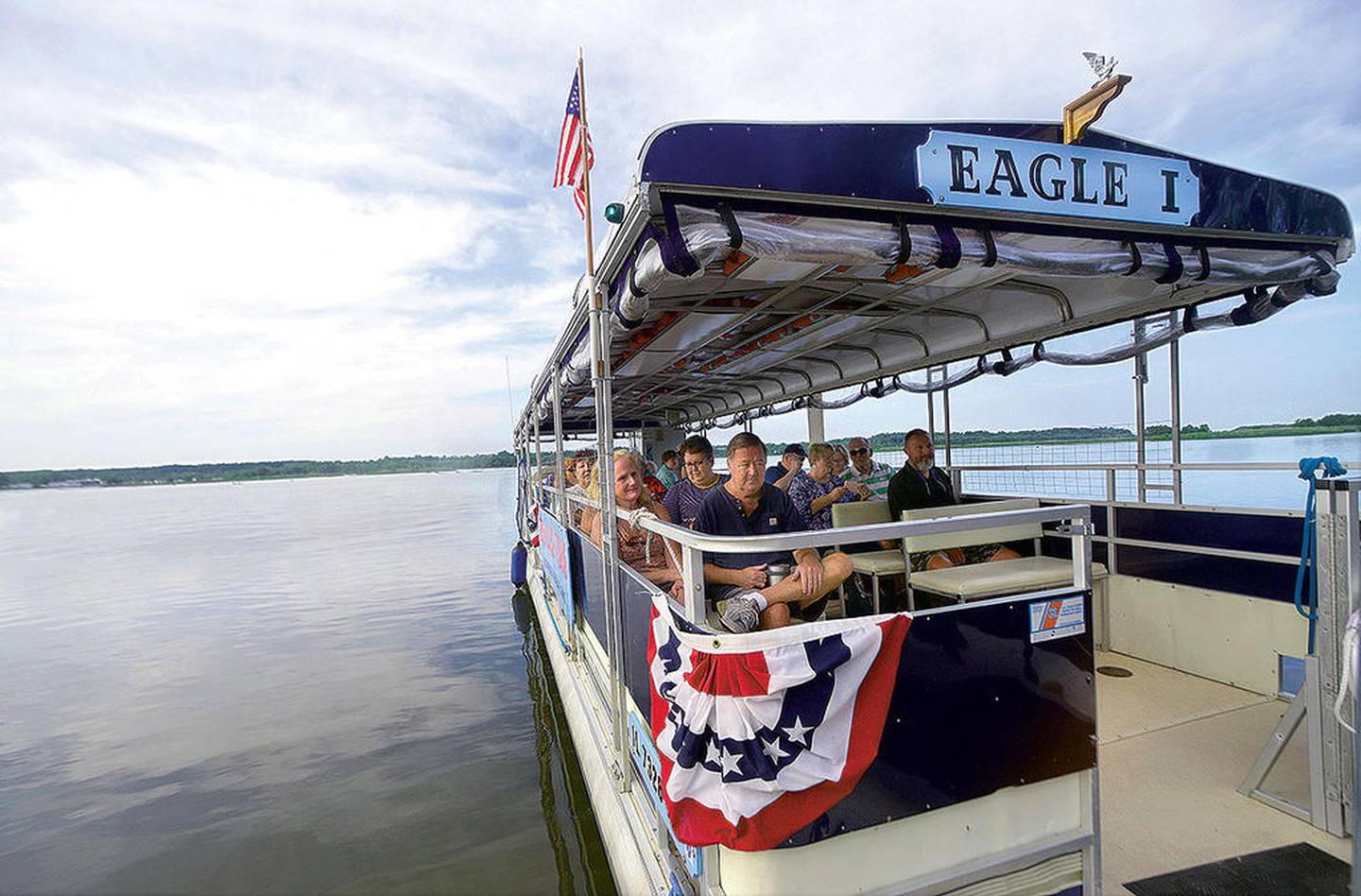 Jakupcak, a former geology and ecology teacher, also shares in-depth knowledge of the park's natural beauty and rock faces as they pass along its many sites such as Owl Canyon and Beehive Overlook.
Renae noted the tour is a great alternative for those who want to see some of the harder-to-reach or inaccessible portions of the park without trekking a far distance.
And Captain Randy added the tour has recently begun making stops as well.
"We've been given permission to actually land at a couple of those spots, like the old tour boat did. They're folks who can't hike a long distance up and down the stairs or are disabled and can't do a long hike. It makes it nice to land the boat," he said.
But there's plenty to be seen from the boat itself.
"The wildlife out here is another thing that makes this interesting to me," he said. "There are times out here you'll see a deer or a raccoon swimming to an island. You never know what you're going to see out here."
The crew tends to have a few binoculars and blankets handy so visitors can catch a glimpse of Starved Rock's perma-vacationers.
A great blue heron sighting was a highlight for the July group and people turned around and tapped each other on the shoulder to spot the Asian carp splashing about as the crowd cruised by.
"We haven't had one on the boat since June," Jakupcak said to laughter from the crowd. "So far, so good."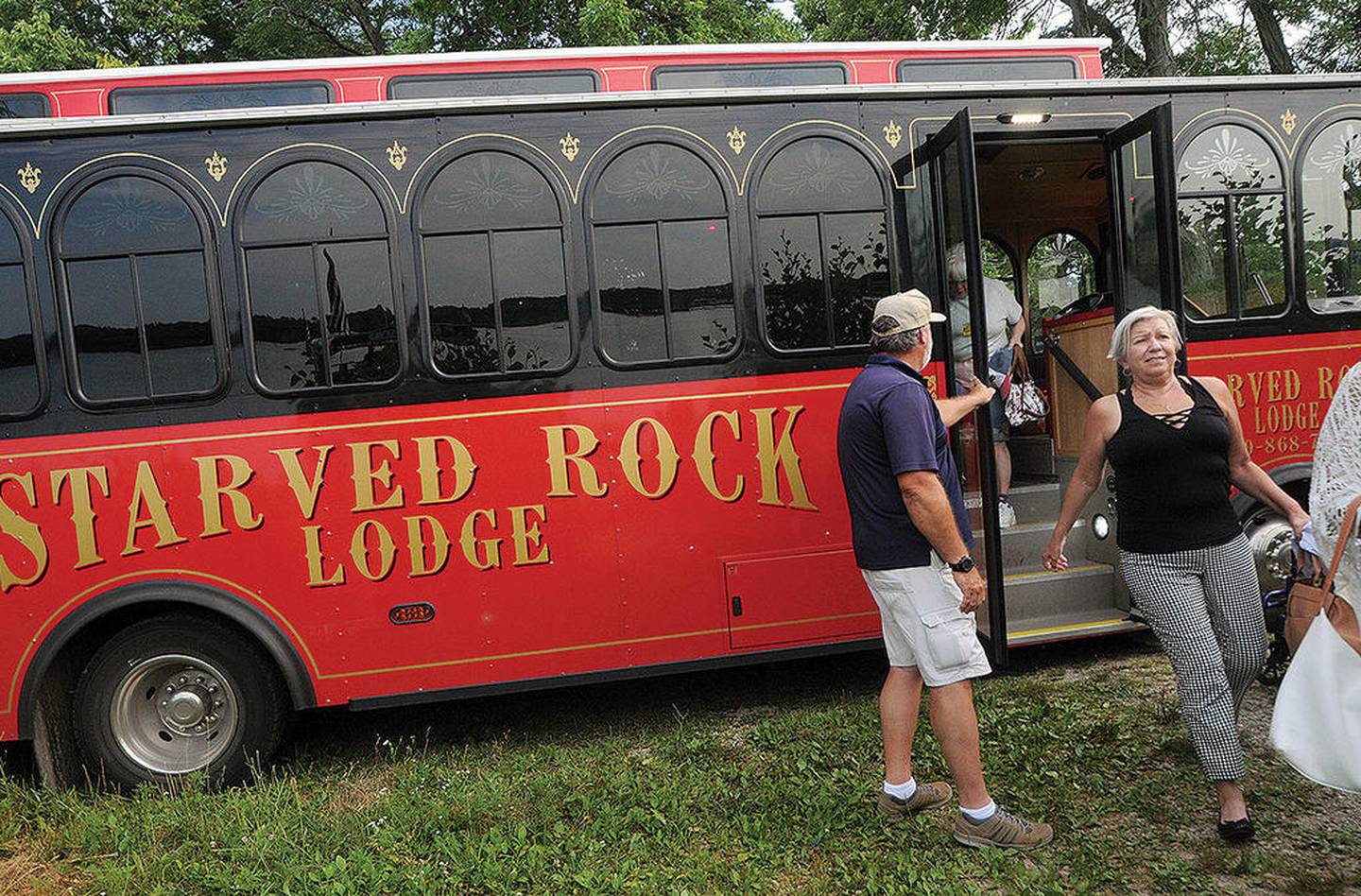 But, the clear favorite was the eagle sightings.
Heads were quickly on a swivel when Captain Randy gave notice to the crowd that an eagle was high overhead. Then another passed by shortly after and a younger eagle was spotted near the end of the trip.
Sharry Davis hadn't been to the park since she was a young child and decided to return with her grandson Maxwell Shepherd and his fiance Celsey DeLahr for the tour.
Sharry said the park hadn't lost any of its luster and was glad they were able to take in the sights of the birds she recalled when she was a kid.
Captain Randy said he loves to hear about guests new and old discovering the park and taking in its serenity.
"They love it out here at Starved Rock. They get out and explore and see all these things and that's great."
For more information on the Dinner and Evening Cruise, and other tours offered at the Starved Rock Lodge and Conference Center, visit: starvedrocklodge.com/activity/water-cruises-2
Starved Rock Lodge and Conference Center
2688 East 873rd Road
Oglesby, IL 61348
(815) 667-4211