Driving down a rural blacktop road in Bureau County, one outbuilding begins to look similar to the next as they cluster from farm to farm until suddenly a kaleidoscope of geometric shapes and colors nearly pop off of a red barn, highlighted by the bright blue afternoon sky.
This work of art is a barn quilt and can be seen in various patterns and colors on more than 80 buildings along the Bureau County Barn Quilt Trail weaving through the countryside among small towns like La Moille, Tiskilwa and Wyanet.
"It's been a way to brighten up, spruce up our farms with a personal (piece of art)," said Valerie Jensen, Barn Quilts of Bureau County coordinator.
Several years ago, Jensen noticed that a few people in Bureau County had begun to display barn quilts, similar to what she had adorning a barn on her Tiskilwa farm. After connecting with some other women in the county, and attending a talk on barn quilts in Kankakee, the group decided to organize a trail and encourage other farmers to paint and display barn quilts themselves. Since 2012 Jensen and a fluctuating number of volunteers have been painting quilts, updating the trail map, answering occasional messages and promoting participation. The quilts are painted with exterior latex paint onto 4-by-8-foot sheets of medium density overlay board. Two sheets are used to make one 8-by-8-foot quilt. Some quilts are half that size. The cost ranges from $225 to $325 to have one painted by a volunteer. Each quilt has anywhere from three to seven layers of paint depending on the artist.
Deb Ganschow didn't need much encouragement to jump on the barn quilt bandwagon. She had been wanting one for her Walnut farm for some time. Gifted one for Christmas from her adult children, Ganschow and her husband, Jim, set about choosing a pattern and colors. "Grandmother's Flower Garden" is a pattern Jim was drawn to as his grandmother would create a quilt in that pattern whenever one of her grandchildren married. It was a tradition. After Jim and Deb were engaged, their quilt was started but Jim's grandmother passed before she could complete the gift. Years later Jim's mother finished it for the couple.
"It's a family tradition. It's just a traditional pattern," Deb said. "When my husband thinks of quilts, he thinks of the flower garden as one of his favorite patterns, and of course he remembers his mother and grandmother quilting."
This particular pattern is a collection of hexagons and was more involved than a project Jensen wanted to take on. That's when the Ganschows decided to paint their barn quilt themselves. In fact, several participants on the trail have painted their own quilts. It was the freedom to create a design that could not be replicated that drew Renee Corpus to "Le Rooster."
As someone who had raised chickens and is fond of roosters, Corpus decided to hand draw her centerpiece and frame him in a traditional patchwork pattern.
"I love the sense, the feel of it. It makes it look homey. It makes it look like this is important to this family, that they took this time to do this. It means the world to us," Corpus said of the quilt that has adorned their machine shed since the summer of 2016.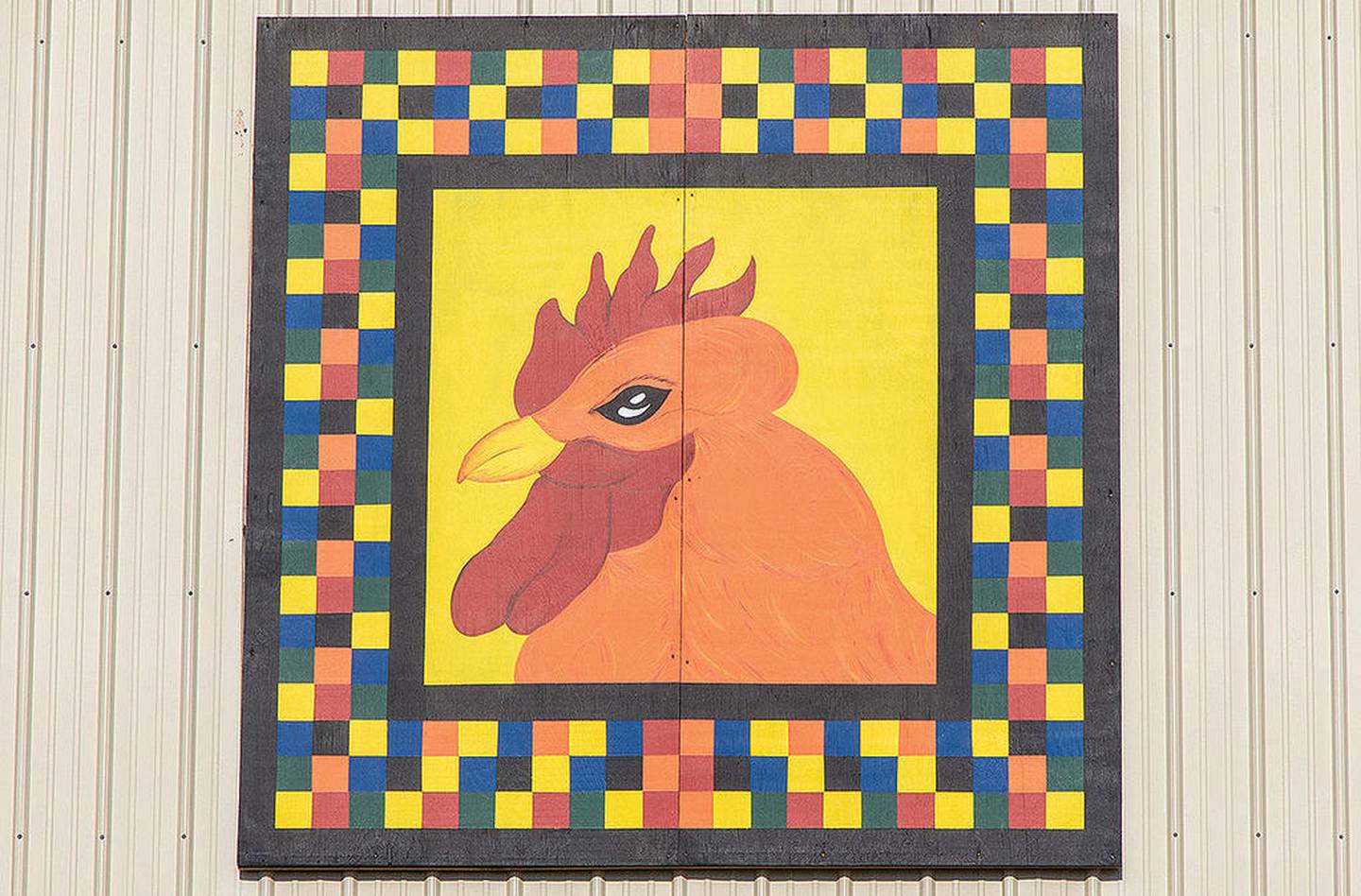 Occasionally Corpus will be home when she sees someone pull off the road to admire her quilt. She recounted a time a photographer from New York had come across "Le Rooster" along his travels and stopped for a few photos and a chat.
"He came out and talked with me for quite some time," Corpus said. "Everybody's nice. They are not there to harm you by any means, and they just want to know, 'Did you do this yourself? How long did it take you? I just love how beautiful the colors are with the rooster and the frame.' We've had so much positive feedback and it just really connects people with the rural area and makes it more friendly and inviting."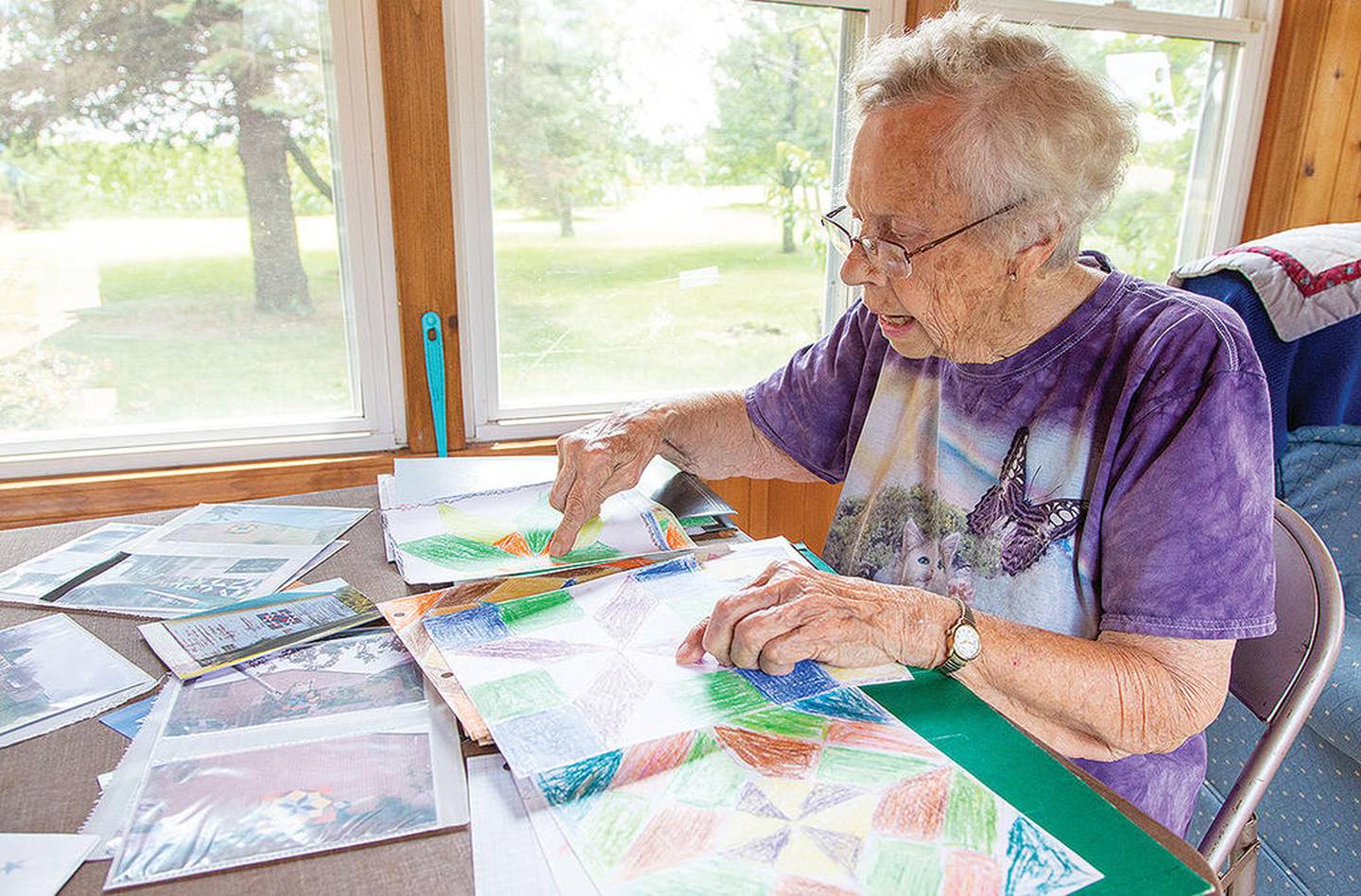 Connecting people to Bureau County is one reason Rheta Schallhorn was excited to paint her own barn quilt. In 2013 she completed her "Morning Star" design in shades of orange, gold and blue. "When they came and put this up I said, 'Yes! I got my barn quilt!' I was so happy," Schallhorn said as she thumbed through pages of hand drawn designs colored in crayon.
Since then Schallhorn has painted several smaller quilt designs that are displayed throughout her yard and home. For her, the most difficult task is deciding on a favorite pattern and color scheme before she puts in hours of work.
"Once you get it up and don't like it, well tough rocks," Schallhorn chuckled, referencing the reason for her folder full of designs.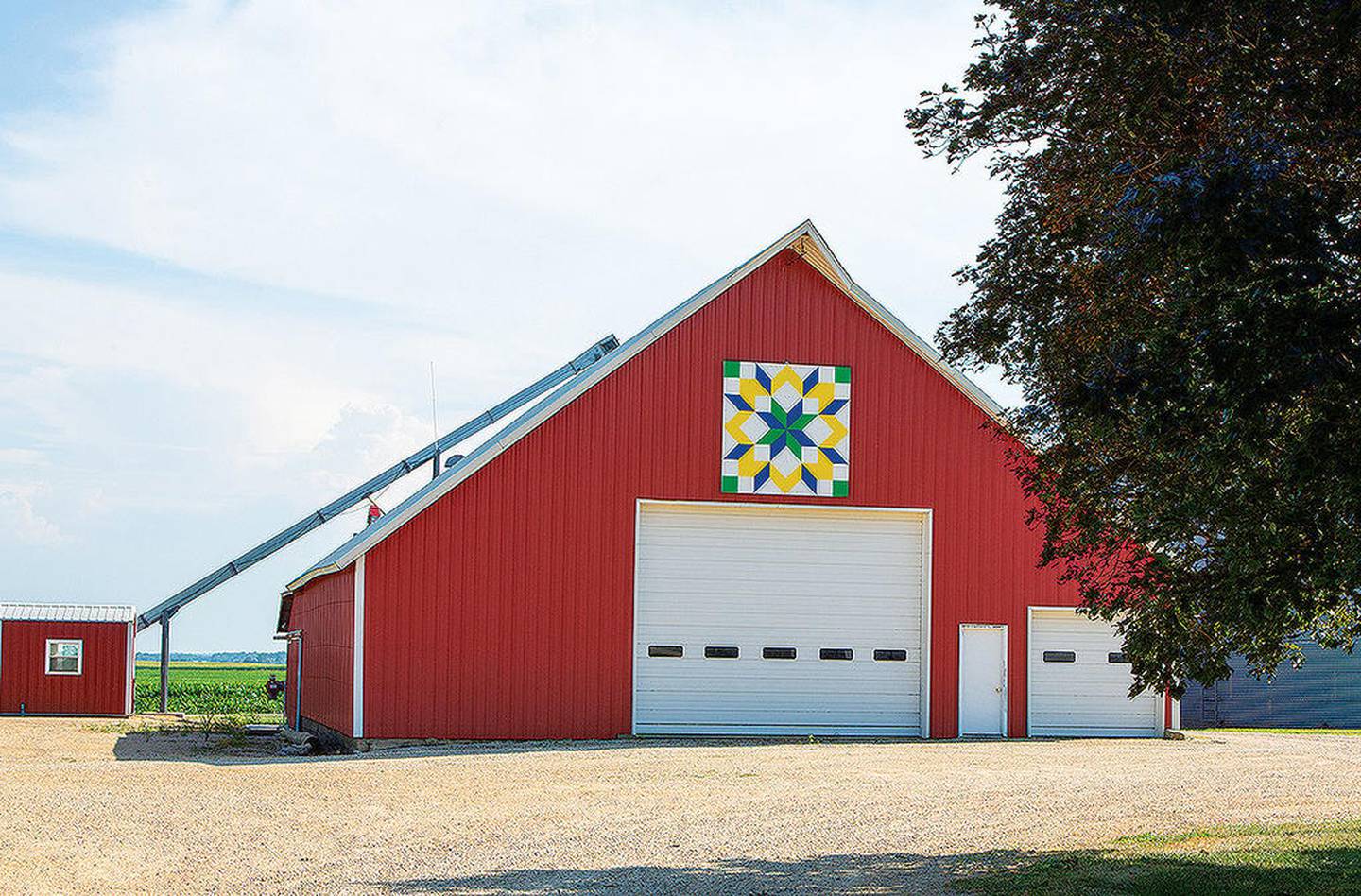 It's that passion for barn quilts that keeps Jensen active in volunteering with the Barn Quilts of Bureau County.
"I love that people get excited about creating the designs, especially when it's personalized and it incorporates family history, and then it's displayed on their farm for the world to see," Jensen said.
For more information and an interactive trail map, go online to: www.bureaucounty-il.com/Barn-Quilts
This article was featured in the Fall 2019 issue of Starved Rock Country Magazine.