Join us as we take a tour of this "hidden gem" executive rental near bustling downtown Ottawa! Catering to adults only, this penthouse features two bedrooms, a full bath, furnished living room, and a full kitchen and dining area, complete with all the amenities.
This beautiful red bricked quadplex was erected in 1978, by current owner Patrick Mossey. Beyond the inviting exterior and well manicured hedges, you'll find a comfortable accommodation catering to both adult vacationers and business travelers alike.
This 1,100 sq. foot penthouse, conveniently located on Ottawa's west-side, boasts two on-site parking spaces and complimentary bicycles for exploring the nearby downtown and I and M Canal trail.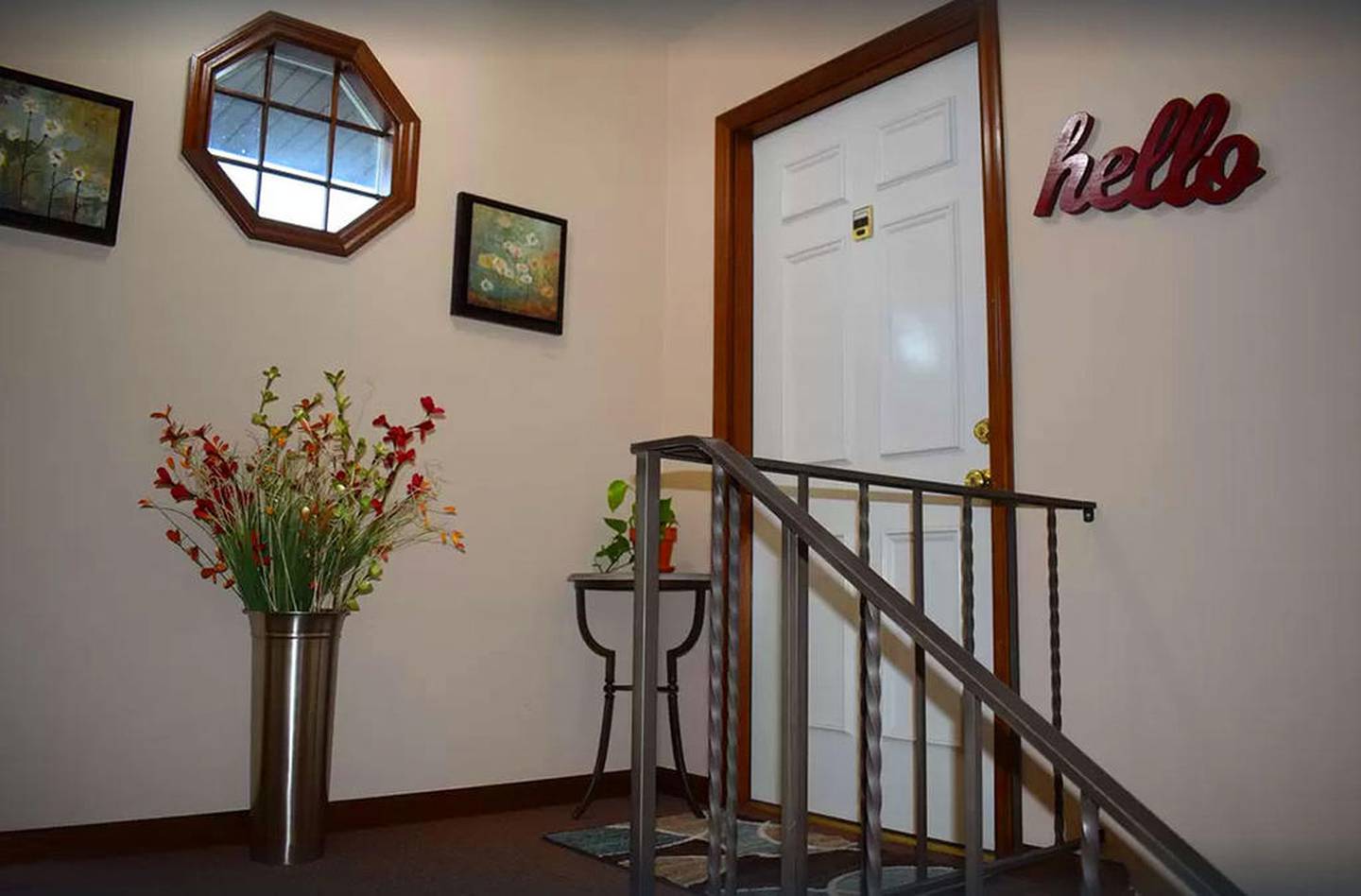 The Starved Rock "Hidden Gem" Penthouse is located just a short walk away from popular restaurants like The Lone Buffalo, B.A.S.H and Corner 230, and downtown shopping destinations like A Mess of Things, SaltTreeYoga and Prairie Fox Books. You'll also be less than a 10 minute drive away from Buffalo Rock State Park, and under 15 minutes from the heart of Starved Rock!
This cozy rental unit is located on the second floor of the Mossey building, affording both privacy and an excellent backyard view. As you scale the two half flights of stairs, you'll be greeted with fun and funky decor that changes throughout the seasons.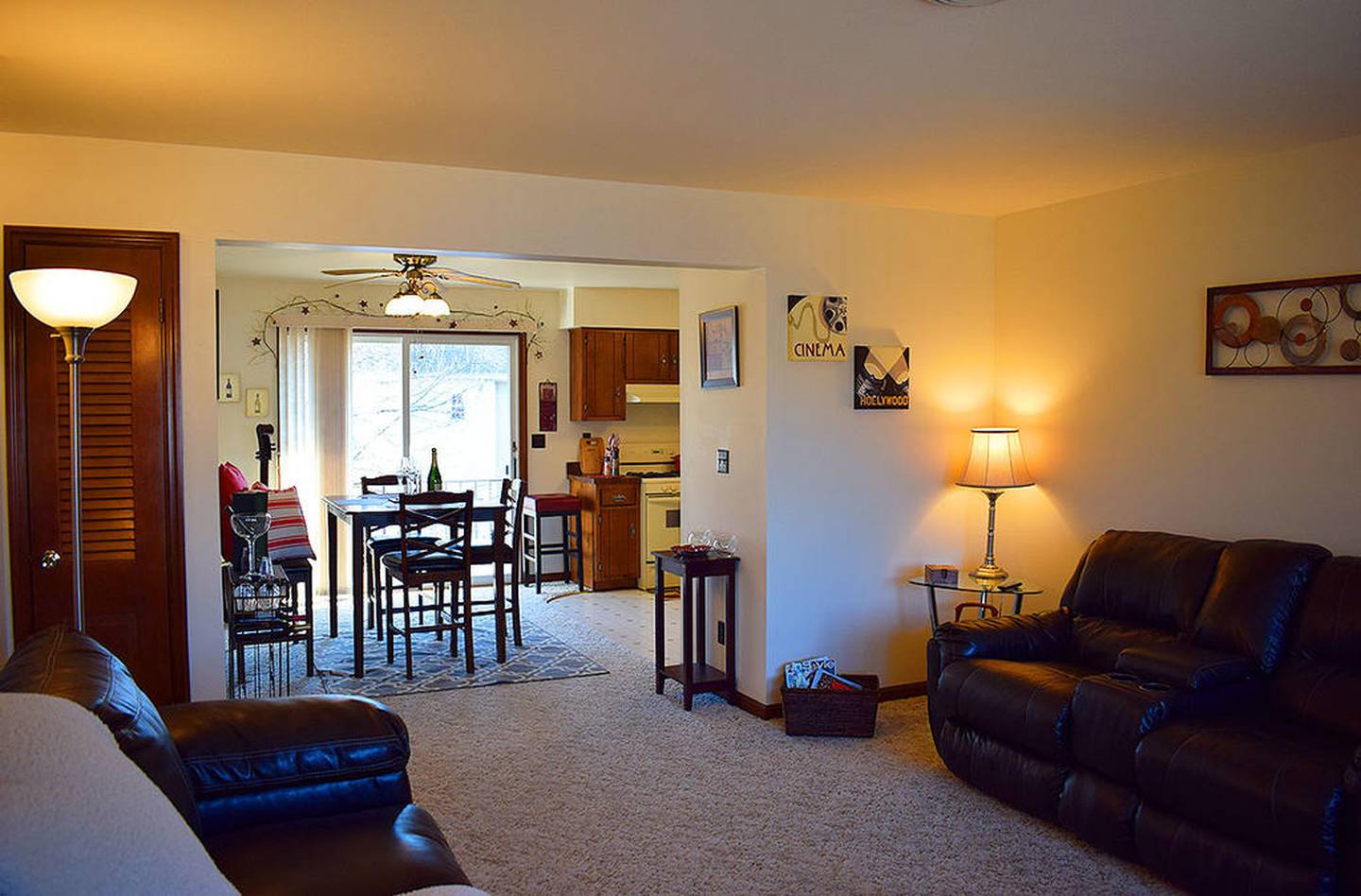 The Starved Rock "Hidden Gem" Penthouse aims to provide you with all the comforts of home during your vacation or business trip in Starved Rock Country, and that includes a cozy and relaxing atmosphere.
Inside the penthouse, you'll find a living room, filled with plush leather recliners, a spacious couch, a television and a writing desk, perched under the unit's north facing window. The open living space branches off the neighboring kitchen, dining area and a corridor leading to two furnished bedrooms.
The Penthouse offers a full sized kitchen, perfect for preparing a morning breakfast before heading off on a hike, and a full dining set, ideal for enjoying an evening bottle wine with your guests.
Having access to a kitchen during your vacation can be an incredible amenity, since dining out constitutes such a large portion of vacation budgets. The Penthouse is fully stocked with all the essential culturally, dishware and appliances you'll need to make a full meal for your party.
The Starved Rock "Hidden Gem" Penthouse features two bedrooms, both with luxury mattresses and fresh linens. You'll also find air purifiers, alarm clocks, dressers, closets and even a flatscreen TV in the master bedroom.
The decor in the rooms match the rest of the unit, a funky and fun combination of ornamentations that give each room a unique personality of it's own.
In the basement you'll find newly renovated laundry facilities, a convenient addition for anyone considering a longer stay.
The Penthouse also features a small balcony overlooking the backyard, an excellent place to curl up in the summer with a good book, or just take in the scenery of the neighborhood.
Below, you'll find a patio complete with a table, chairs and a large grill. This communal space is open for you to use during any of the warmer months.
For more information on the Starved Rock "Hidden Gem" Penthouse, and to make your reservation, visit: www.starvedrockpenthouse.com
Starved Rock "Hidden Gem" Penthouse
519 West Superior Street
Ottawa, IL 61350
815-488-5007