For many visitors, a trip to Starved Rock Country during the winter months means wine tastings, delicious dinners, scenic hikes and cozy cabins, but this majestic stretch of north-central Illinois is also home to some of the best winter eagle watching the Midwest has to offer.
The Illinois Audubon Society's Plum Island Sanctuary, located at the base of the Starved Rock Lock, has long been a favorite wintering site for bald eagles. The broken-up ice, reliable food source and sturdy nesting trees make this small stretch of the Illinois River a reliable place for birders, photographers and nature lovers to see these beautiful birds of prey in their natural habitat.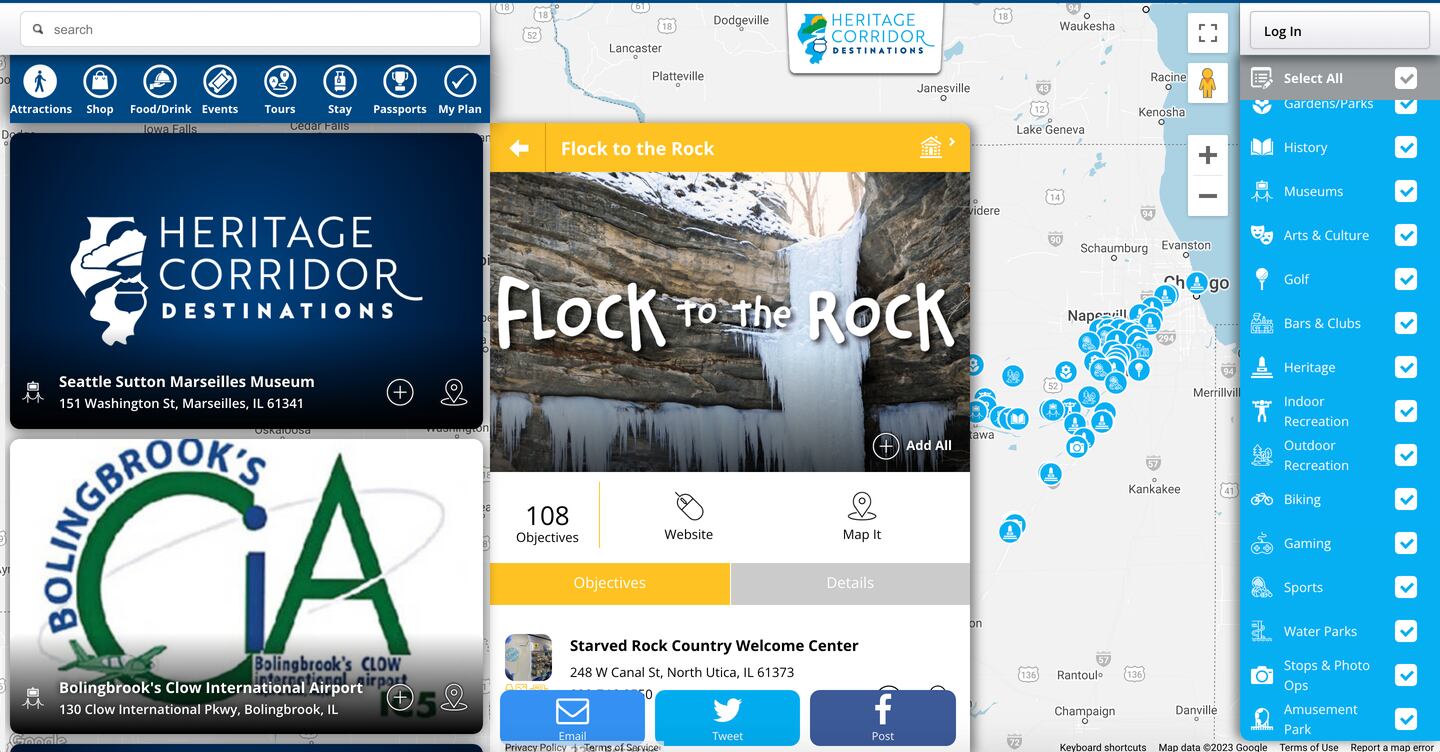 To celebrate the bald eagle season, which typically runs through the end of March, Heritage Corridor Destinations has launched a new web-app challenge that gives you a chance to win a stay at the picturesque Kishauwau Cabins and a cash prize of $250. The Flock To The Rock Contest, which runs through March 31, is a simple and intuitive web-based check-in challenge that can be completed on your mobile phone. Simply head to HCDestinations.com/Flock-To-The-Rock and click "Join The Challenge," or visit the app store and download the Heritage Corridor app. In this widget, you'll find a convenient road-trip planner and a map with 100+ popular destinations, businesses and restaurants across Starved Rock Country. Once you've logged into the widget or app, you just need to visit 15 of these physical destinations on your trip to earn a "Flock To The Rock" knit cap or collectible plush bald eagle. You'll also be eligible for a monthly drawing of $250 and a chance at claiming the grand-prize stay at Kishauwau Cabins.
No purchase is necessary to compete in the contest; the VisitWidget page and app will allow you to check in at these locations once your phone's GPS confirms you are near them. Plan your trip around visiting a few of these sights, such as the Starved Rock Country Welcome Center, August Hill Winery Tasting Room or Starved Rock Lodge and Conference Center, just to name a few of the 100+ possible destinations. This fun digital treasure hunt is sure to engage all ages on your way to see Starved Rock's spectacular eagles.
There's no better time to take part in this contest than Starved Rock's official Eagle Watch Weekend. Held Jan. 28 and 29, Eagle Watch Weekend is a partnership between Starved Rock State Park, Starved Rock Lodge and Conference Center and the Illinois Waterway Visitor Center, offering two full days of eagle-related demonstrations, lectures and guided hikes. These activities are offered to the public on a first-come basis free of charge, aside from the Starved Rock Lodge trolleys that will run daily from 9 a.m. to 5 p.m. for a discounted $4 per day rate. The trolleys will run from the Lodge to the Starved Rock State Park Visitor Center and then to the Illinois Waterway Visitor Center.
Starved Rock State Park's festivities will take place from 9:30 a.m. to 3 p.m. Saturday, Jan. 28, starting with a children's program on bald eagles at 9:30 a.m., followed by a guided eagle-viewing hike at 10 a.m. and a live birds of prey show at 11 a.m. The day will conclude with another guided eagle-viewing hike at 1 p.m. followed by a birds of prey show at 2 p.m. Tickets and reservations for the state park and visitor center programs are not required, but seating will be first come, first served.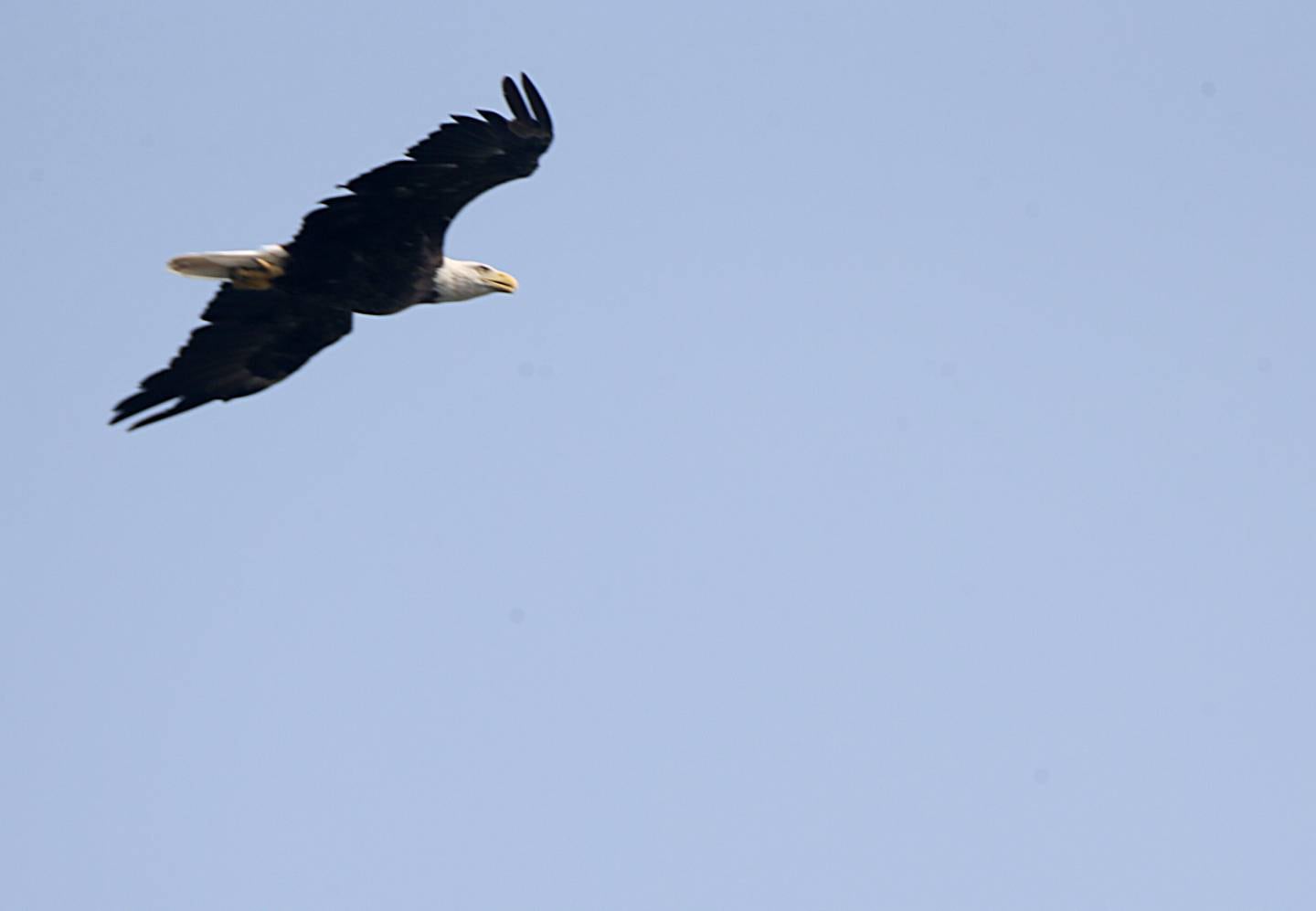 At the Illinois Waterway Visitor Center, activities will take place on both Saturday and Sunday, Jan. 28 and 29. From 9 a.m. to 4:30 p.m., the Starved Rock Audubon Society will be on hand with viewing scopes to help you spot eagles and answer your questions, while authentic Native American dancing and drumming demonstrations will be offered in the lobby throughout the day. At 10 a.m. and at 1 and 3 p.m., Dr. Travis Wilcoxen will discuss bald eagle research being conducted at the Illinois Raptor Center; live birds of prey will be in attendance. If you're a photographer, be sure not to miss David Anderson's lecture on photographing raptors and wildlife.
In addition to offering convenient trolley transport, the Starved Rock Lodge and Conference Center will host free birds of prey shows at 11 a.m. and at 1 and 3 p.m. Free tickets to these events are available both mornings starting at 8 a.m. in the Great Hall West.
Will you spot some bald eagles in the wild? There's a good chance! The numbers vary from year to year, and even day to day, but the cold winter weather tends to concentrate the birds by the open water near the Starved Rock dam. When the weather is warmer, birds will hunt up and down the river leaving fewer near Plum Island. If you're looking for more fun, family-friendly activities in the area, just pull up the Heritage Corridor Destinations app and check off a few Flock To The Rock sites!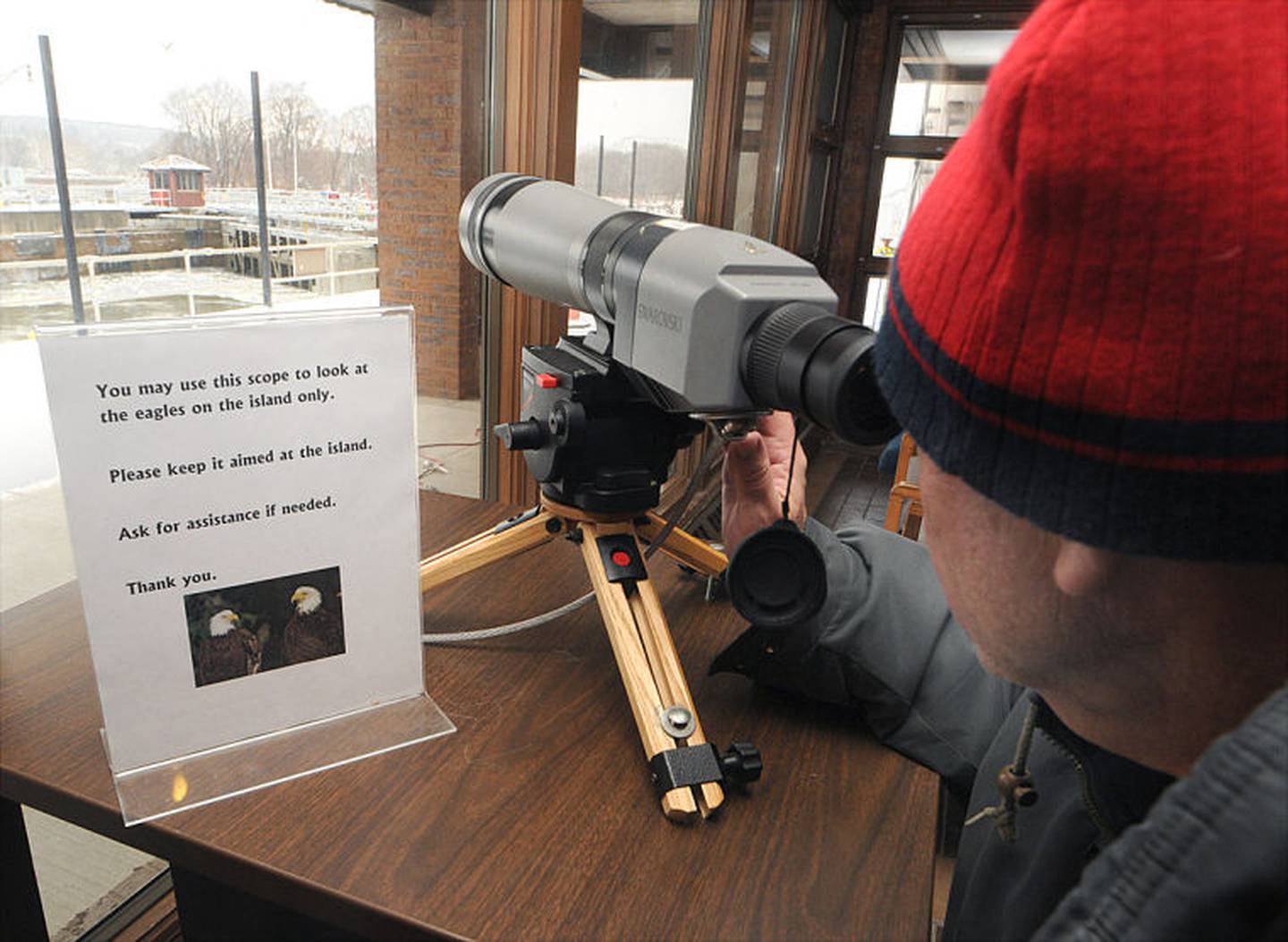 Tips For Eagle Watch Weekend
Parking likely will become more difficult to find by midday. Budget your time carefully if you are planning to attend several programs.

The trolley is a great transportation option for the popular weekend. It runs continuously, but you may have a short wait for the next ride. Plan to leave plenty of extra time between activities for transit on the trolley.

Live bird exhibitions do not permit entry after the program has begun to insure safety of both the birds and audience. Programs are set to begin precisely on time.

Children are welcome and encouraged, but those under the age of 2 may find the one-hour live bird presentations confining. People are asked to be considerate of other attendees.