The Starved Rock Lodge, home to one of the region's top dining destinations, teams up with the master vintners at August Hill Winery for another installment of their popular wine dinner collaboration. The August Hill Wine Dinner, planned March 11 in the lodge's historic wood-clad restaurant, will see viticulture experts from the Utica-based winery pooling their talents with the lodge's Chef Ian Pries to curate an exclusive, four-course meal and wine-tasting experience.
The decadent menu will open with Greek crostini, a vegetarian offering made with a toasted baguette, whipped feta, heirloom tomato, cucumber and fresh dill. The dish will be paired with August Hill's popular Seyval Blanc, a light-bodied, semi-dry table wine accented with floral aromas and citrus, tropical fruit and green apple flavors. This wine, which could be considered a similar style to Pinot Grigio, is known for its fresh and lively spritz on the palate.
The second course will feature an apple and kale salad. Both vegetarian and gluten-free, this dish is made with kale, Honeycrisp apples, toasted almonds and smoked cheddar cheese, tossed in a cranberry vinaigrette. The salad will be paired with August Hill's Niagara. This sweet, fruity and very aromatic white wine boasts a strong American grape flavor. The fresh-tasting wine will pair perfectly with the sweetness of the apple and kale salad.
For the evening's entree, diners will have two excellent choices: smoked chicken or rainbow trout. The smoked chicken thigh will be served with a roasted red pepper cream sauce, honey cornbread and roasted cauliflower. The chicken will be paired with August Hill's famed semi-dry red, Berlyn. Created from Illinois-grown Frontenac and Chambourcin grapes, this wine appeals to both dry and sweet wine lovers and is a top-selling wine at August Hill's Utica tasting room.
The rainbow trout will be served over roasted asparagus, topped with chives, Hollandaise sauce and accented with fingerling potatoes. The dish will be complemented by August Hill's Vignoles, a semi-dry, light-bodied wine with tropical-fruit aromas and flavors. Vignoles is a French-American hybrid grape, similar to a Riesling and perfect for pairing with fish or pasta dishes.
The fourth and final course will tempt with a delicious dessert called Strawberry Lemon Delight. It's prepared with lemon custard, fresh strawberry, angel food cake and whipped cream. The treat will be paired with August Hill Winery's Angel of Hope, a light sweet bubbly wine made from their Niagara wine with a touch of red wine for a unique pink color. Perfect for pairing with light foods and desserts, Angel of Hope took home a Double Gold Medal and Best of Class award at the 2021 Illinois State Fair Wine Competition.
Starved Rock Lodge is one of Illinois' foremost lodging destinations for those looking to enjoy hiking, outdoor adventure, history and architectural landmarks. Within the lodge, you'll find historic ambience in the Lodge Restaurant, where the atmosphere is friendly and casual. Relax and unwind in the indoor pool, hot tub and sauna, or stop by the Back Door Lounge to fuel up before a hike or cool off with a locally brewed craft beer. Choose a hotel room in the lodge or one of the log cabins in the woods. Either way, you'll wake up refreshed by the natural beauty of the surroundings.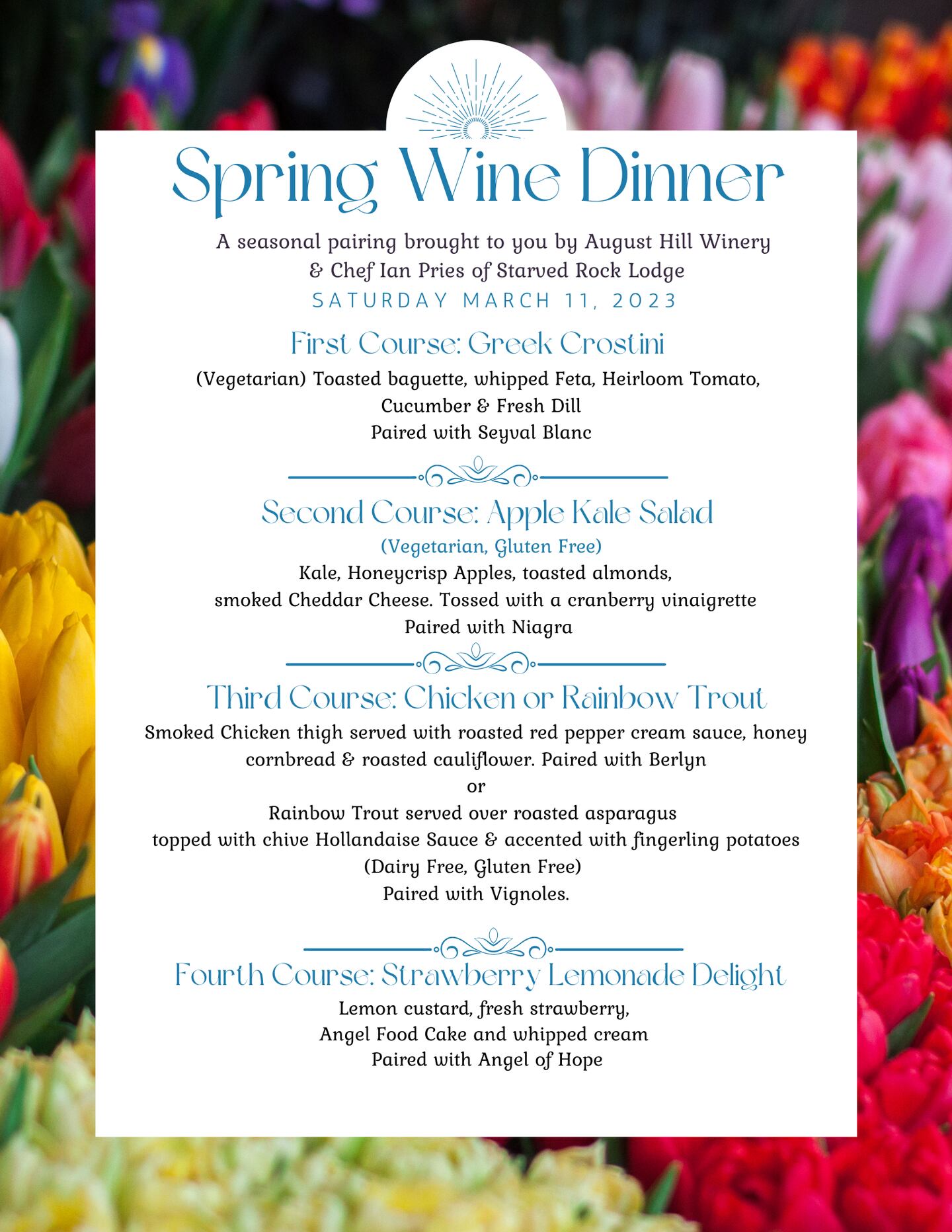 Located right in the heart of downtown Utica, August Hill's sophisticated tasting room offers a selection of award-winning, locally produced wines. Best of all, the line of sparkling wines is produced with grapes grown on a sprawling vineyard within Starved Rock Country. Enjoy a glass of August Hill's award-winning Berlyn Red, share a wine flight on its beautiful patio, or purchase a case of wine to share with friends and family. Check out August Hill's events calendar for a full list of live music performances, special mimosa events and interactive classes.
Seats for the special dinner are limited, and advance reservations are required. To check availability, visit starvedrocklodge.com/events.