Send off summer right with a family trolley tour, guided hike or river cruise booked through the Starved Rock Lodge & Conference Center. These small-group excursions are led by expert guides, granting you three unique perspectives on the legendary state park. Join us as we take a look at some of the guided tours currently on offer.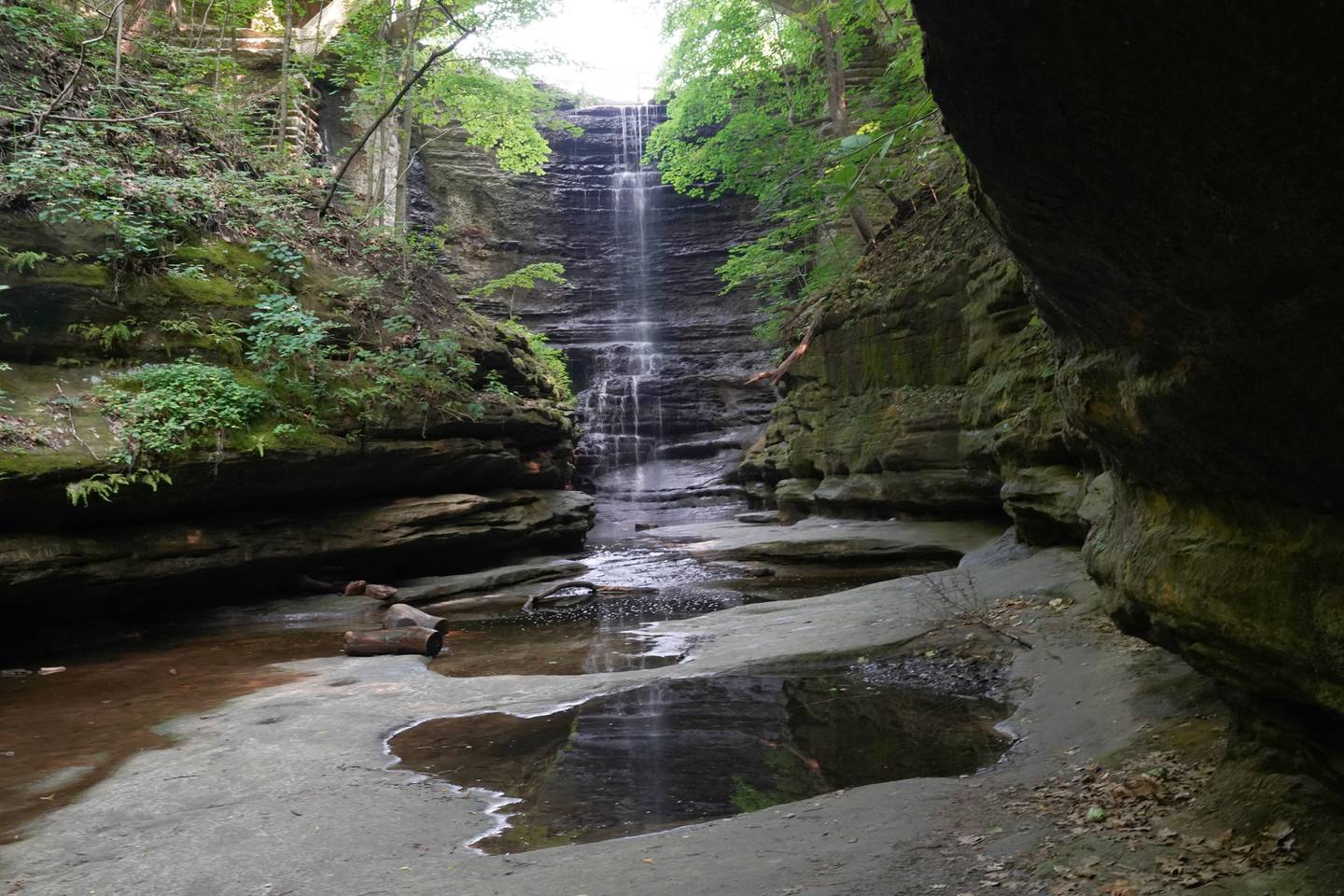 Hike And A Lunch Tours
Saturdays and Sundays from 10 a.m. to 2 p.m.
The best way to acquaint yourself with the trails at Starved Rock State Park, and learn a bit about the region's fascinating history and ecology, is to book a guided hike offered by Starved Rock Lodge. On these small group mini-expeditions, you'll explore Starved Rock's canyons, bluffs and seasonal waterfalls with the help of a knowledgeable trail guide. Tours start at 10 a.m. in the Starved Rock Lodge's hotel lobby, for a meet-and-greet with your guide, followed by the distribution of pre-packaged lunches – which are included with the price of admission for the hike. You'll have your choice of turkey, ham or veggie wrap, along with a bag of chips, granola bar, piece of fruit and bottle of water.
Your group will hike toward such popular sightseeing and photo-op spots as Wildcat Canyon, Eagle Cliff and Lover's Leap. Participants can expect to return to the lodge around 2 p.m. Along the way, your trail guide will point you toward all the best photo-ops, while adding exciting historical and nature facts – leaving you with a better understanding of the park's history and ecology. Proper footwear, hiking sticks and additional water are recommended for the outing. Tours cost $25 per person, including your meal. Pre-registration is required.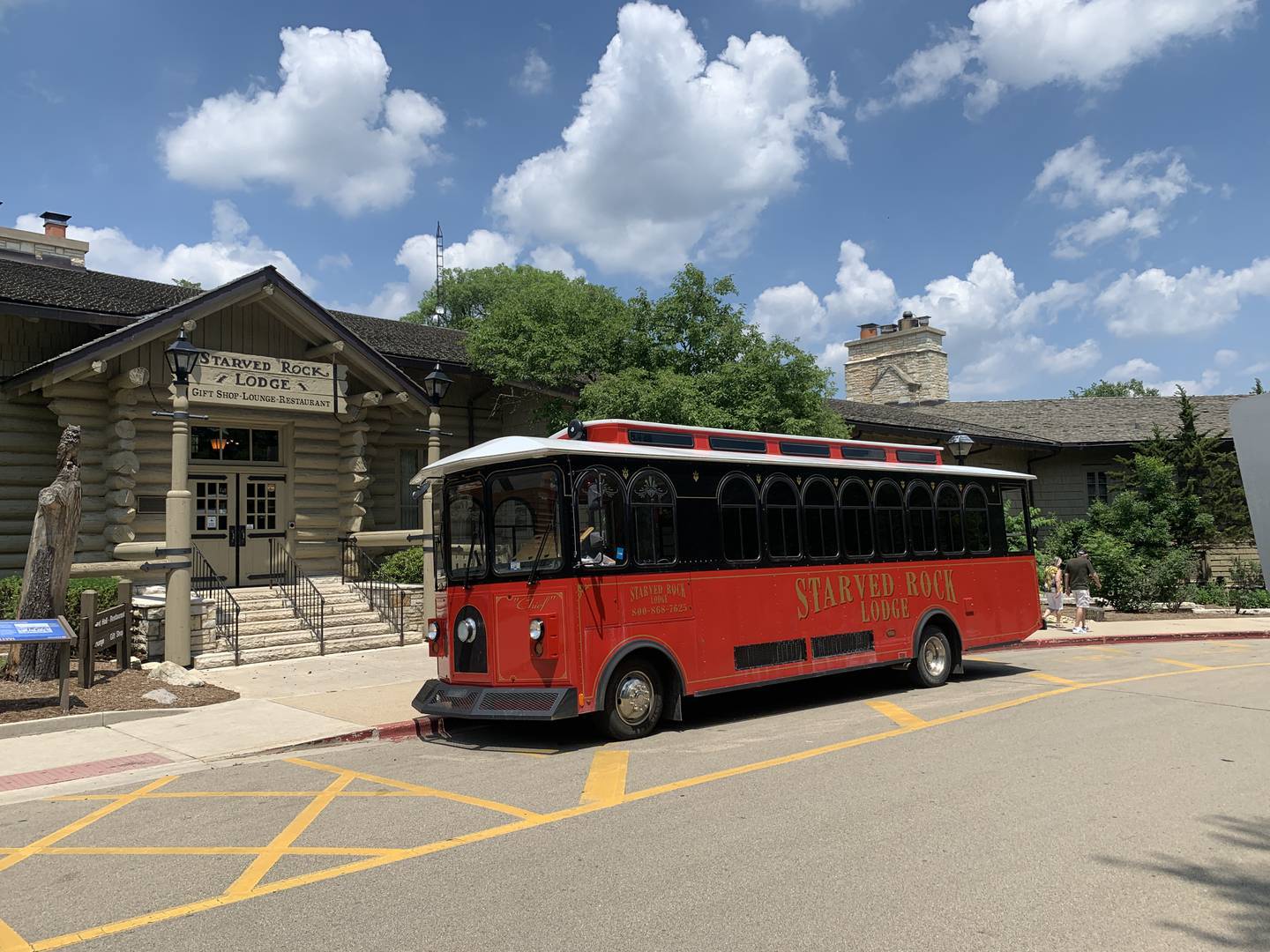 Historic Trolley Tours
Mondays, Wednesdays and Fridays from 3 to 4:30 p.m.
Saturdays and Sundays from noon to 1:30 p.m. and 1:30 to 3 p.m.
The Historic Trolley Tour, one of Starved Rock Lodge's signature events, is a great way to sightsee at the park and its surrounding region without embarking on a strenuous hike. These expansive 90-minute trolley tours include stops at the Starved Rock State Park Visitor Center and the Illinois Waterway Visitor Center, and even take you through beautiful downtown Utica.
On board, the trolley driver will narrate the history and legends of the region – highlighting historical events and must-see points of interest. These all-ages tours are held aboard buses with modern climate-control systems, ensuring you'll have a comfortable ride all year round. Admission costs $18 for adults, $15 for seniors, and $10 for children age 10 and younger. It's free for children age 3 and younger.
Land & Water Cruise
Mondays, Wednesdays and Fridays from 11 a.m. to 3 p.m.
Starved Rock Lodge also provides water cruises with unbeatable views of the Illinois River and the state park's majestic sandstone bluffs. The Land and Water Cruise package gives your group the best of both types of Starved Rock tours, providing guests with historical and geological facts, as well as excellent birding opportunities. The exciting sightseeing tour is held aboard the Eagle I, a specialty tour boat that provides beautiful panoramic views of the river. The guided tour starts with lunch at the Starved Rock Lodge restaurant, followed by a fully narrated trolley ride departing from Starved Rock Lodge – providing historical context and land-based sightseeing opportunities, before arriving at the nearby boat launch for a water cruise. Once on board the boat, you'll be treated to some thrilling stories and legends about the park, as well as a close-up view of the gargantuan rock formations that have made it so famous. Tickets cost $58 per person, for ages 4 and up.
One-Hour Waterfowl Cruise
Saturdays and Sundays at 1 and 2 p.m.
Looking for an opportunity to snap some photos of Starved Rock and the Illinois River's famed avian visitors? Consider booking a breezy one-hour cruise aboard the Eagle I. Departing from Starved Rock Lodge, guests will take a short trolley ride to Lone Point Shelter, where they'll board the boat for a beautiful tour of the emerging fall foliage as you learn history, hear legends and possibly even spot some wildlife along the lively Illinois River. Tours cost $35 per person.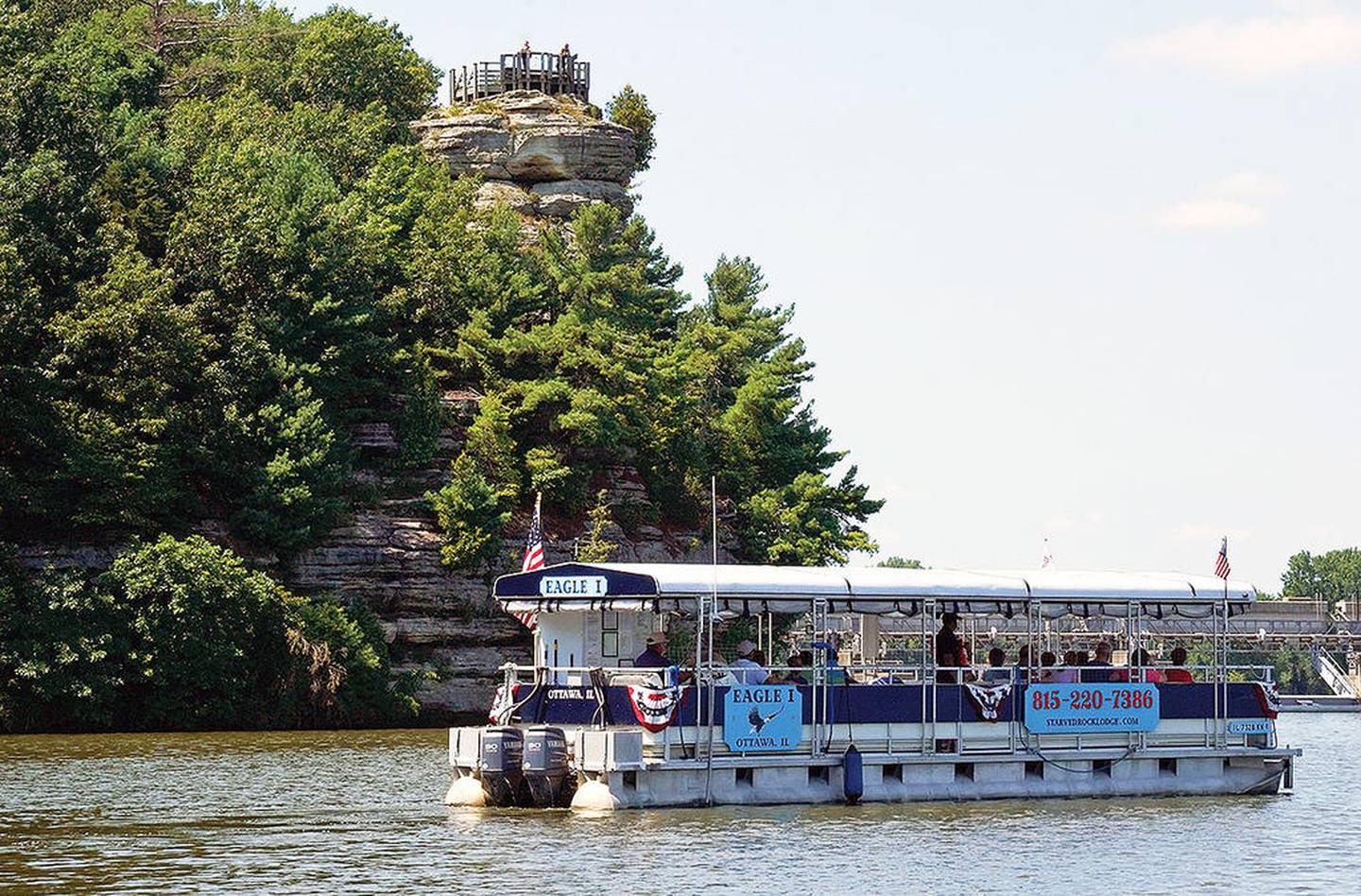 Visit A Canyon And A Boat Ride
Saturdays and Sundays from 11 a.m. to 1:30 p.m.
Board a trolley from Starved Rock Lodge with a guide, and head to the entrance of one of the park's most scenic canyons. This guided walk is less than a mile long and takes about 45 minutes. Following the hike, relax with a boat ride on the picturesque Illinois River. A snack, bottle of water and souvenir drawstring backpack are included in your ticket price. The canyon chosen may vary, depending on weather, river and trail conditions. Tickets cost $53 per person, and $48 for children age 10 and younger.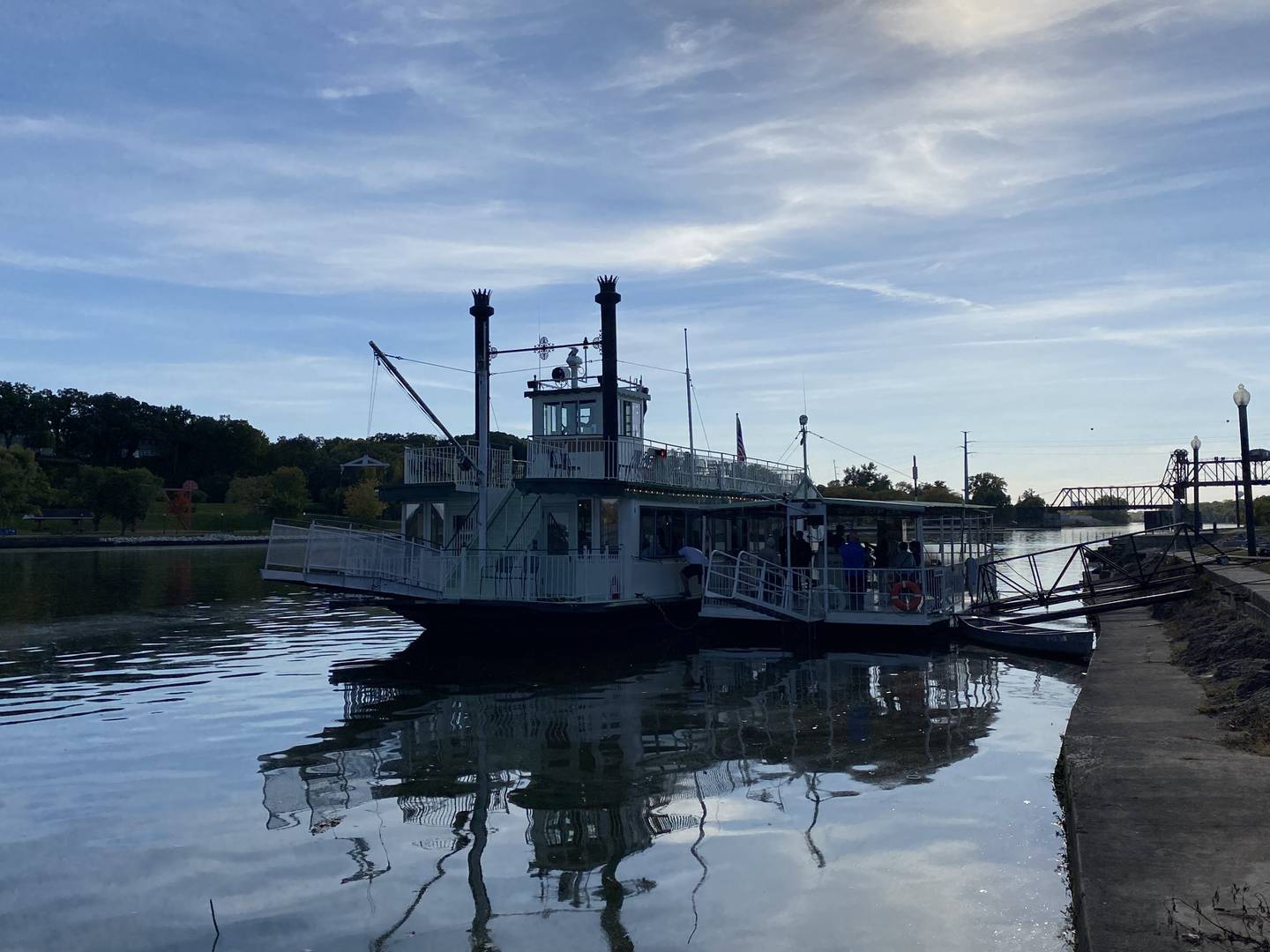 Sunset Cruise
Offered Aug. 31 and Sept. 14 and 28 from 5 to 8:30 p.m.
Hop aboard Starved Rock Lodge's newest tour offering, made possible in partnership with Ottawa's Sainte Genevieve Riverboat. Enjoy a cruise down the beautiful Illinois River aboard the spectacular Sainte Genevieve sternwheeler. Guests will board the trolley at the Lodge and head over to beautiful Ottawa, IL for a scenic sunset cruise. Following the cruise, the trolley will bring you back to the Lodge, making for a convenient and picturesque voyage. Tickets cost $50 for adults and $40 for children; limited dates remain for this special event.
To reserve your spot on these fun and family-friendly tours, simply call 815-220-7386 or visit www.starvedrocklodge.com/activities. There you'll find a full calendar of events and extended descriptions of the tours and other excursions offered by Starved Rock Lodge & Conference Center.